Sponsored
Vox Media, HuffPost Live share secrets of scaleable video
May 13, 2014
| Sponsored by
Kargo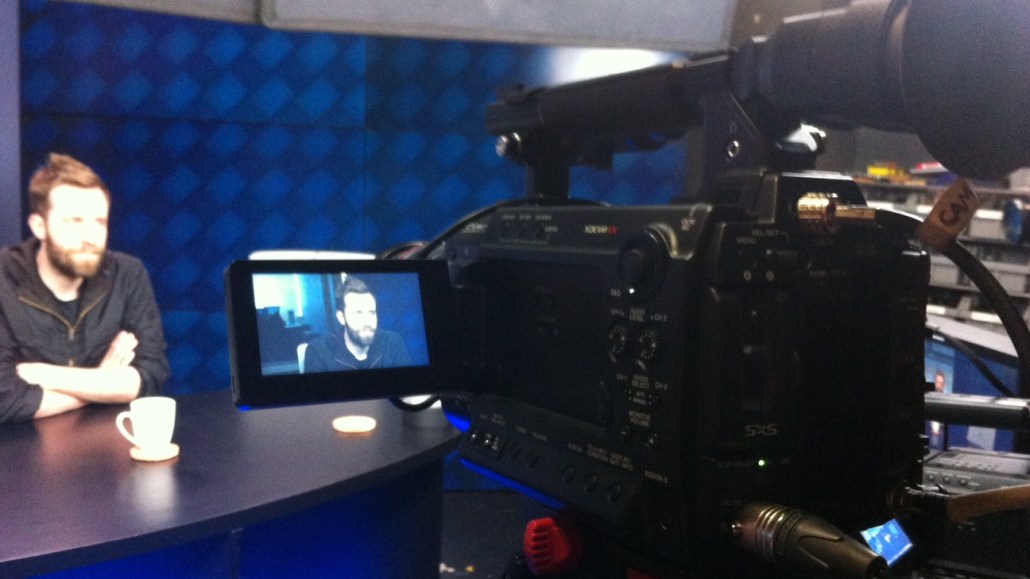 For publishers looking to close the mobile revenue gap, video seems a likely choice.
Not only are video CPMs through the roof—$24.60 versus $3.00 for mobile and $1.90 for desktop display, according to ZenithOptimedia—but the mobile audience is promising. In 2014, 89 million smartphone users will watch video once a month, along with 113.4 million tablet owners, according to eMarketer.
"As more and more text-based content is created in the world, the inventory becomes less valuable," said Justin Stefano, co-founder and CEO of Refinery29. "Video is a way to hedge against CPM compression." Combining that limited inventory with mobile, "where you have just one stream of content," is stoking publishers' fire for video, Stefano said.
But video production doesn't pay unless you can make the margins work, and that's a major headache for publishers looking for a way into the burgeoning market. "The question is how can you fix costs and create a lot of content," said Roy Sekoff, president of HuffPost Live.
Refinery29, Huffington Post and Vox Media are three publishers that have gone all in on video production. Here are five takeaways for publishers who want to create video without going broke.
Ad rendering preventing in staging

Ad position: web_incontent_pos1
Hire media hackers
Vox Media has a 40-person video production unit with two sound stages, a control room, an editing bay with a dozen screens and a closet chock full of camera equipment. But publishers without that kind of hardware, take heart: The real value is in Vox's staff.
Creative director Chad Mumm said his staff is comprised of self-taught, motivated "media hackers," scouted from Vimeo and YouTube, who bring some combination of essential skills — shooting, editing, writing and motion graphics.
"These are folks who would go and watch 'Iron Man' and come back home and sit with their iMac or laptop to try to figure out how to reverse engineer the special effects."
Create content in batches
Huffington Post, Vox Media and Refinery29 have each come up with a formula for creating a lot of content in one go. Vox's set up allows it to produce up to 30 video clips in one day, as it did for sports publication SB Nation, during last week's NFL draft.
HuffPost Live's in-house studio runs eight hours a day, five days a week; all part of its plan to create "a clip generating machine," said Sekoff. The team then slices that footage into 350-400 clips, giving Huffington Post sizeable inventory to run ads against.
Find your winning format
Refinery29's readers love the site's service videos, which dole out advice via its "Beauty Prep School" series and others. The videos boast a 65 percent completion rate, according to Stefano, and look great on mobile.
They're also cheap to produce. Refinery29 relies on a small team of seven producers, shooters and editors who follow time-tested templates and scripts. They'll shoot 10-20 of the site's popular service videos in one day and then edit them the next.
"It's a really efficient format in process and post, so our editors can tack on title cards and graphics and get these things out pretty efficiently," said Justin Stefano, co-founder and CEO of Refinery 29.
Consider mobile viewers
Not only are Refinery29's videos digestible, they're art-directed to be mobile friendly, shot against spare, light-colored backgrounds with lots of tight shots on products and demonstrations. The method renders well on very small screens, an argument for moving away from repurposed television content.
At HuffPost Live, Sekoff says mobile is driving the site's innovation. "The tablet is one of the better ways to experience HuffPost Live. You can throw the image on [your TV] screen and use the tablet for the interactivity part." Sekoff said that mobile is going to be a main driver of the site's growth going forward.
"The flip to mobile has been incredibly accelerated and even faster than we thought," he said.
Look to long form
Short content has become the standard, but more and more publishers are moving away from the 2-4-minute format. Like the New York Times, which recently launched longer videos like its Op-Docs.
"The middle of the market isn't going to do well," Stefano said. "YouTube owns that."
Instead, Refinery29 is betting on longer, highly produced series — like its miniseries "On the Road with Iconopop" — and distribution partnerships, including Spin Media and others.
HuffPost Live is also creating longer-form content. Sekoff said that HuffPost Live users are spending 20 minutes on site, proof enough for him that there is an appetite for prolonged engagement.
"People are not as ADD as everyone thinks they are," said Sekoff. "Right now, especially on mobile, a minute and a half is like 'Roots.' That's not going to be the case forever," he said.
Ad rendering preventing in staging

Ad position: web_bfu