Tastemade adds programs to sell and manage subscriptions, events for creators
November 22, 2021 • 6 min read
•
•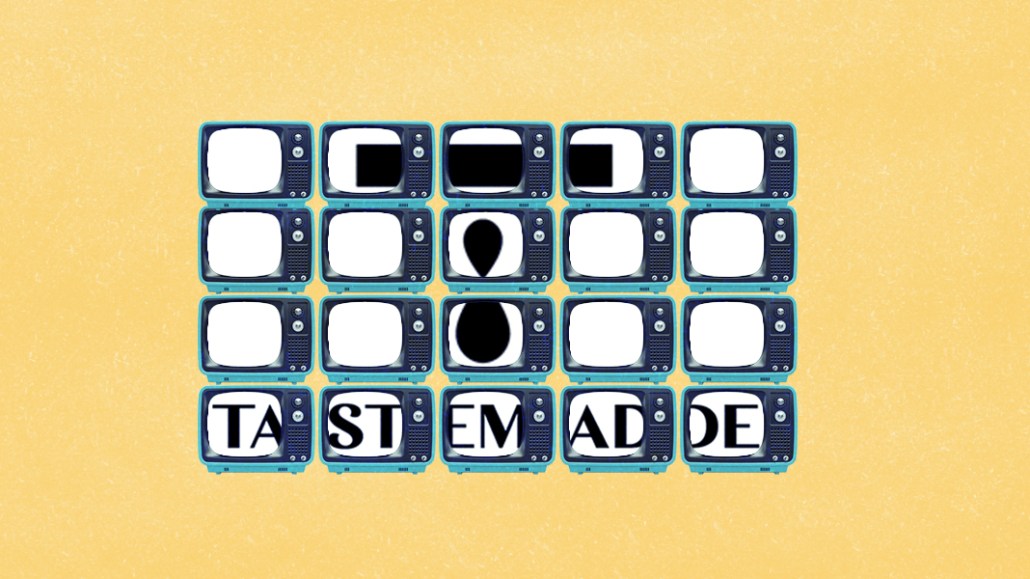 Tastemade is stretching its business further into the booming creator economy.
Among the early digital video networks to sell ads and sponsorships across an array of individual video creators' YouTube channels as well as to produce original shows starring those creators, the food-and-travel-focused media company is now adding subscription and event sales to the mix.
Through Tastemade Makers, creators are able to sell multi-tiered subscriptions for people to receive perks, like access to monthly recipes, exclusive videos, the ability to directly message the creator and even an option to have the creator prepare a four-course meal for them and their friends. Tastemade Experiences is the name of the company's event sales and management program through which creators are able to sell tickets to virtual and in-person events, with Tastemade handling billing and attendee management and providing a livestreaming system for the virtual events.
"We've already been participating in the creator economy, having paid out over $35 million to creators to be on-camera talent for a lot of the work that we've been doing around video. So what we wanted to do was find a way to extend different tools and different things that makers and creators can do on our platform within our ecosystem," said Tastemade head of platform Rich Maggiotto.
Maggiotto joined Tastemade after it acquired Maggiotto's company ChefsFeed in December 2020. A food-centric content platform, ChefsFeed operated a network of chefs who shared content including recipes on its platform and also operated an in-person and virtual events business for those chefs.
As part of the programs, creators come up with their own offerings, including setting their own subscription prices and scheduling their own events. Tastemade effectively handles the back-office work in exchange for 10% to 15% of each sale. That cut is higher than the 8% that Patreon takes for subscriptions sold by creators using its Patreon Pro tier, which is its most popular plan among creators, according to Sebastien Delvaux, co-founder and COO of talent agency Evolved Talent. For creators like Rose Wilde and Frankie Celenza, though, the trade-off to participate in Tastemade's programs is worth it.
"It really is so different than other things that I have researched and looked into using before to try to get my art accessible to people because there is this strong support system behind you and just the name recognition has allowed people to find me easier," Wilde said.
"I used to put 15 hours a month into YouTube, and now I'm putting 15 hours a month into my subscription service, and I'm finding between eight and 10 times the revenue," said Celenza.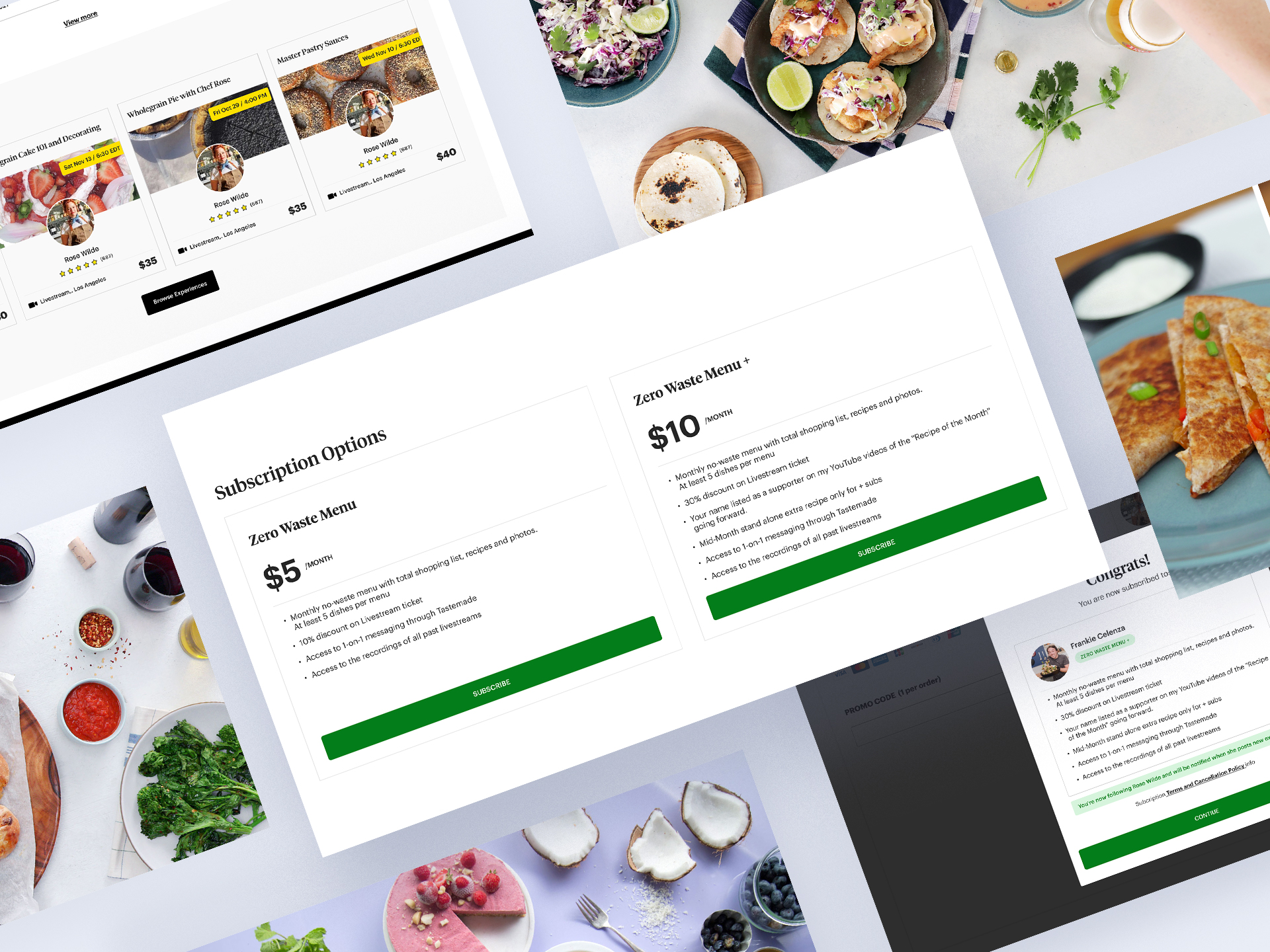 The creator economy buffet
As indicated by the ChefsFeed acquisition, Tastemade is neither the first nor the only company to provide programs for creators to sell subscriptions and event tickets. Creators are able to sell subscriptions to their channels on YouTube and Twitch, and Patreon provides a subscription tool for creators that is not tethered to a single distribution platform. Meanwhile, companies like Eventbrite and Hopin offer event management tools for creators.
Tastemade's differentiator appears to be the rest of its business, from providing a built-in potential customer base for creators to presenting additional income opportunities like brand deals and show offers. Celenza already hosts Tastemade show "Struggle Meals," and Wilde has worked on a Tastemade-produced branded-content series for Lexus and is starring in a pilot for a new show. By adding subscription and event sales, Tastemade is combining multiple categories of creator economy company into one, said Andrew Cohen, manager at strategic advisory firm RockWater, which has areas of focus in food, livestreaming and streaming video.
"In terms of brand strategy, it's kind of like a 'house of creators' strategy like [gaming organization] FaZe Clan or Barstool. From a revenue strategy perspective, it's similar to a creator economy platform," Cohen said.
In addition to its digital video network, Tastemade operates its own subscription-based streaming service and a TV network that's available on pay-TV services like YouTube TV. The company claims that more than 300 million people watch its programming each month across those various properties. That audience size as well as Tastemade's focus on food and travel offers potential targeted exposure to creators facing an increasingly saturated market as anyone with a smartphone can become an overnight star.
"This could be a great alternative for those folks who have hesitations about getting lost in the shuffle, that maybe their food content won't be discovered because they're amongst the hundreds of thousands of other creators who are getting viewership," said Justin Miclat, CEO of talent management firm The Kinetic Group.
Creator control
Digital video creators were among the earliest members of the digital media industry to prize revenue diversification and platform independence. They had burnt themselves out trying to appease YouTube's algorithm and pushed back against companies that operated thinly veiled YouTube ad networks called "multichannel networks" that often failed to provide creators with enough value to justify the 15% to 30% of revenue the companies received.
So, despite the ready-made customer base and additional income opportunities Tastemade may provide, it's somewhat eyebrow-raising to think that a creator would want to set up their subscription and events business inside a media company rather than go it alone. However, Tastemade seems to have recognized this potential creator concern and is providing a fair amount of autonomy to creators.
For starters, if a creator eventually decides to stop using Tastemade's platform to sell and manage their subscription business, they will be able to take their subscriber list with them, according to Maggiotto. "A lot of platforms — I won't name them — there's a loss of agency with a lot of these creators, and we feel that there is a friendlier option that gives agency back to creators and makers, and we want to be that option," he said.
Additionally, Tastemade is not requiring creators to commit to being part of its platform for any minimum period of time and is allowing the creators to come up with their own subscription packages, plan out their own events and set their own prices.
Case in point: Wilde is offering an array of subscription tiers. On the low end, for $10 a month, a subscriber will receive a monthly newsletter, monthly recipe and access to a livestream cooking class. On the much higher end, for $1,500 a month, Wilde will travel to wherever a subscriber chooses to prepare a four-course meal for up to 15 people. "I've talked to a couple people about booking those out," she said.
Celenza, meanwhile, has kept his subscription tiers closer to the $8 average that Tastemade has seen among the 30 creators that it began testing the program with over the summer. For $5 a month, a subscriber receives a monthly batch of five to seven recipes that share ingredients so that none of the food goes to waste as well as a discount on a virtual shopping class. For $10 a month, the subscriber receives the same recipe batch and a slightly higher class discount, and one-third of his subscribers so far have opted for the higher-priced tier. Eventually Celenza plans to add a $1 tier that provides subscribers with a "pasta of the month" recipe.
The level of control that Tastemade is providing to creators "does tell me that this is not trying to recreate a sort of predatory relationship that you might have seen with some MCNs in the past or even some management companies that had also that 'we own you' vibe," Delvaux said. The pricing options and subscriber list access, in particular, "tells me that Tastemade is most likely trying to do this the right way where there isn't too much to think about as a creator."
https://staging.digiday.com/?p=433312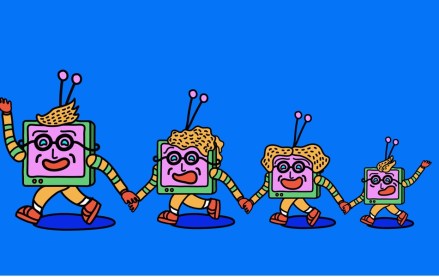 August 16, 2023 • 7 min read
This week's Future of TV Briefing looks at how the latest quarterly earnings season evinces more streaming subscriber growth struggles and a growing fondness for the bundle.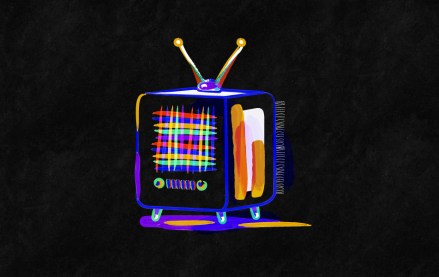 August 11, 2023 • 3 min read
It would appear that investors' enthusiasm for the CTV narrative that has served TTD, Magnite and PubMatic so well for the last 18 months is starting to plateau.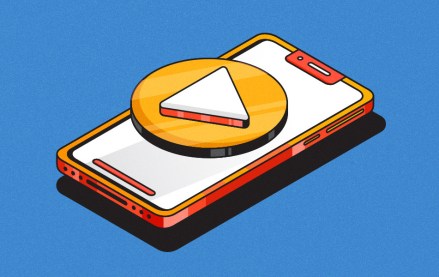 August 9, 2023 • 6 min read
This week's Future of TV Briefing looks at how platforms are pulling creators toward longer videos while brands push for shorter fare.