Future of TV Briefing: How major streamers are stepping up the fight for subscribers
October 6, 2021 • 9 min read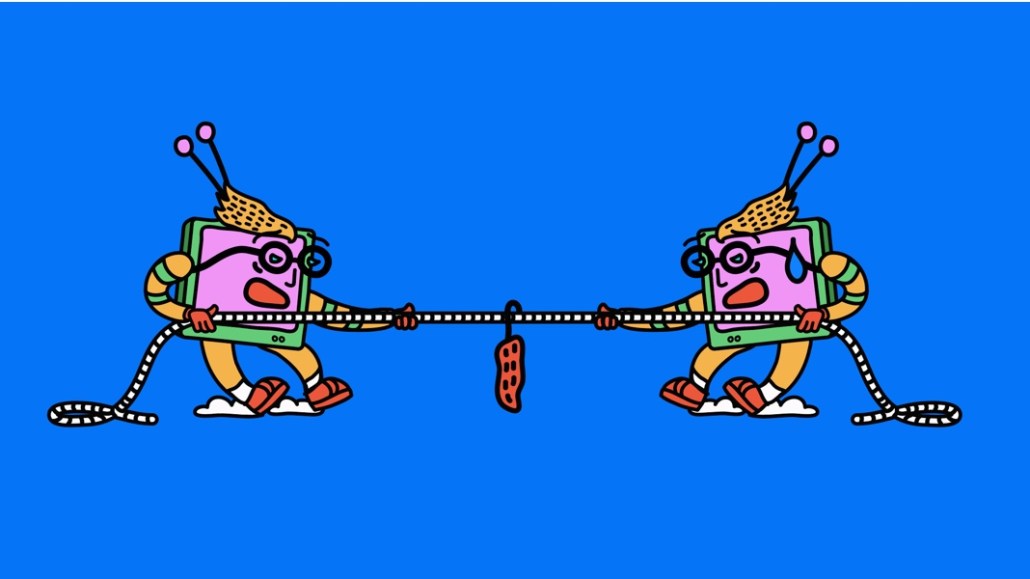 Ivy Liu
The Future of TV Briefing this week looks at how the playing field among major subscription-based streamers is shaking out as Netflix looks to redouble its grip, Disney+ foresees slowing subscriber growth and others prep expansion plans.
Streaming war turns battle royale
Entertainment workers may go on strike
FASTs go ad-free
Hollywood's Black gay underrepresentation, NBCUniversal's Peacock relaunch, Patreon's original programming push and more
Streaming war turns battle royale
The key hits:
The fourth quarter of 2021 is setting up to be a fiery time for subscription-based streamers.
Netflix is looking to reestablish its grip on audiences' attentions.
Disney expects its streaming subscriber growth to slow.
Others like WarnerMedia's HBO Max and Apple's Apple TV+ are preparing to expand.
The subscription-based streaming wars have been heating up since Disney debuted Disney+ nearly two years ago. Now it's time for a heat check.
After Netflix's subscriber growth slowed — and even inverted in the U.S. and Canada — in the first half of the year, the preeminent streamer projected that a refortified programming lineup toward the end of the year would reignite its customer base. Meanwhile, Disney has already been closing the subscriber gap to Netflix, thanks to its bundle approach. Additionally, the likes of Apple's Apple TV+, NBCUniversal's Peacock, ViacomCBS's Paramount+ and WarnerMedia's HBO Max had either been gaining ground or preparing to make bigger moves.
However, for as much as the subscription-based streaming war is heating up, it also seems to be cooling down in certain respects.
Although Netflix appears to have bounced back from last year's pandemic-induced production hiatus, Disney is still dealing with production delays, and its CEO Bob Chapek said on Sept. 21 that Disney+'s subscriber growth in the final three months of 2021 will likely slow as a result. Furthermore, streaming's share of viewership among U.S. audiences stagnated in August, per Nielsen, suggesting last year's flood of attention has started to ebb.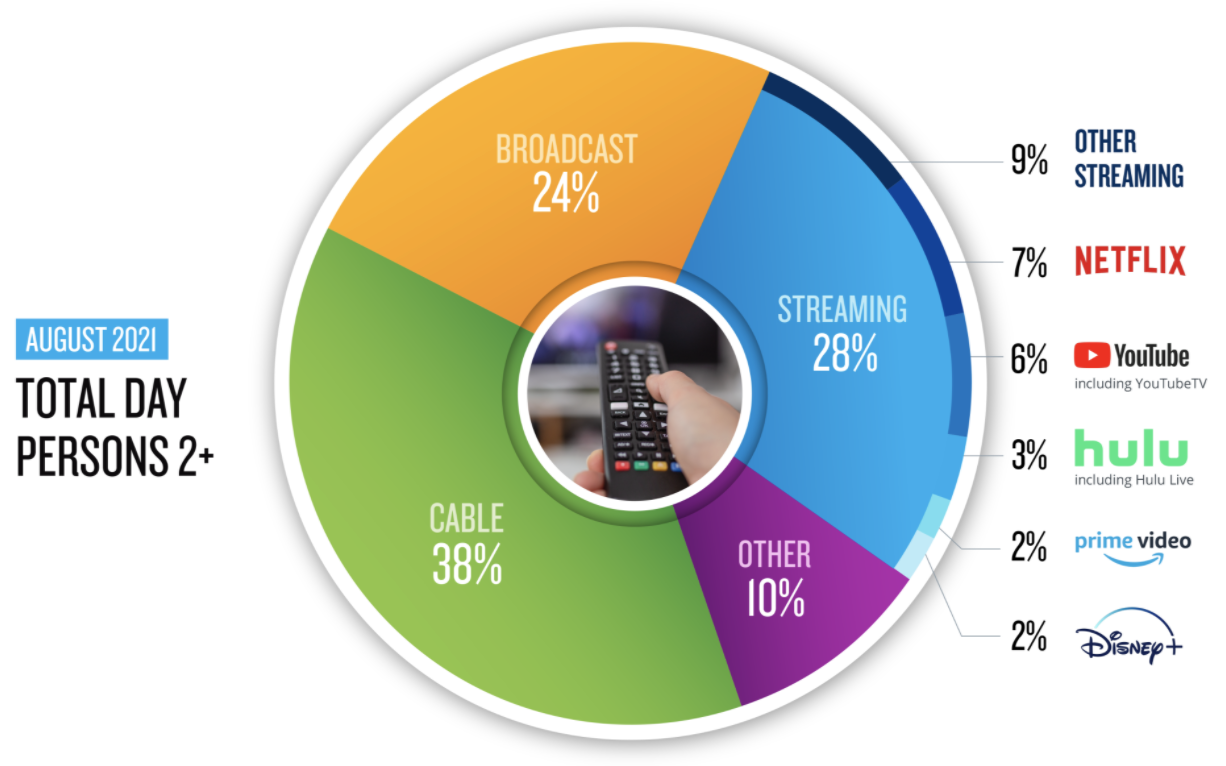 These ups and downs are creating a scenario where the fight for subscribers will become even more volatile as the playing field among streaming services becomes more level. According to a survey conducted in August by Hub Entertainment Research, the percentage of people who consider Netflix to be their default TV viewing source has dipped this year as those defaulting to Amazon's Prime Video, Disney+, HBO Max or Disney-owned Hulu inched up.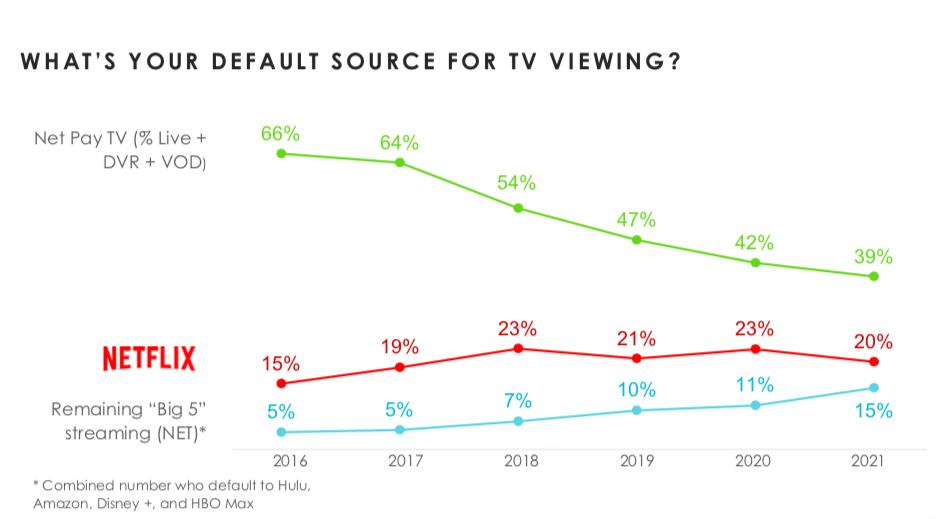 Fueling that volatility is the volatility with which subscribers sign up for and cancel streaming services. According to a survey TiVo conducted in the second quarter of 2021, 39% of respondents said they reevaluate how they spend their money on entertainment at least every few months. In April alone, Disney+, HBO Max and ViacomCBS's streaming properties saw between 2% and 7% of their respective subscribers churn, according to streaming technology provider Wurl.
Considering the increased competition for subscribers, unsurprisingly streamers have increased their ad spending this year. By September, streaming services including Disney+, HBO Max, Paramount+ and Peacock had spent $1.06 billion on advertising across digital, TV and print, a 47% increase year-over-year and nearly as much as the $1.13 billion they had spent in total in 2020, according to ad sales intelligence platform MediaRadar.
As streamers continue to pour fuel on the fire, the subscription-based streaming war will only heat up even more.
What we've heard
"[The email address as identity foundation] is insufficient as we look to [streaming] and CTV. So you have my email address because I pay for Netflix or Showtime. But what about my family profiles? You build completely different behavioral, psychographic data off that, and you're tying it to, most likely, the wrong email address."

— Publishing executive at the Digiday Publishing Summit
Stay tuned: Entertainment workers may go on strike
Hollywood's return to production is on the verge of halting again.
Members of entertainment industry labor union the International Alliance of Theatrical Stage Workers have voted to give the organization's president Matthew Loeb the authority to call for its 60,000 members to go on strike, IATSE announced on Oct. 4. According to the labor union, 90% of its members submitted votes, and more than 98% of those who voted supported the strike authorization.
The strike authorization vote doesn't guarantee that IATSE's members — which span roles including camera operators, sound technicians, make-up and hair stylists and art directors — will be going on strike. But it increases the union's leverage when negotiating for improved working conditions with the Alliance of Motion Picture and Television Producers, which represents movie and TV production companies and studios.
At the core of IATSE's demands are better pay, better benefits and better hours. The union has specifically taken issue with the extensive hours that crew members are asked to work, the limited rest during and between shifts, the sub-cost-of-living wages for some roles and the lower-than-usual pay that crew members some receive for streaming projects.
Whether or not Loeb calls a strike, the situation seems assured to have an impact on the TV and streaming production landscape.
If a strike does happen, then the industry will effectively be on hiatus, just as TV networks' and streaming services' programming pipelines were finally refilling to pre-pandemic levels. Digital video and commercial projects would probably be minimally impacted since those productions typically rely on non-union crew members.
Meanwhile, if a strike is averted, then that likely means studios and production companies agreeing to improved working conditions for crew members. On a human level, that would be a good thing. But from a business perspective, it would likely translate into increased production costs and extended shooting schedules. That could, in turn, result in a tightening of TV networks' and streaming services' programming pipelines as companies reassess their budgets with an eye toward securing their profits.
Numbers to know
16%: Percentage share of U.K. TV employees who are BIPOC.
$3.5 million: The fine amount ViacomCBS's Pluto TV will pay for violating the FCC's accessibility rules.
28%: Percentage share of surveyed U.S. ad buyers who expect to spend more money on traditional linear TV in the next year, versus 53% who plan to spend more on streaming and connected TV.
$170.8 million: How much revenue TikTok generated in Europe in 2020.
Trend watch: FASTs go ad-free
The "free" in free, ad-supported streaming TV is taking on new meaning. This month Roku's The Roku Channel and Comcast's Xumo are adding ad-free programming to their FAST services.
Both moves underscore that relying free, ad-supported video alone can be a challenging proposition. Xumo's move seems to signal that a free *and* ad-free programming option can help to get audiences in the door — and that a free, ad-supported option alone may not suffice. In a similar vein, The Roku Channel's decision to put "This Old House" behind a paywall reinforces the notion that streaming players, like digital publishers, cannot count on advertising alone for revenue and must diversify. To be clear, Roku's ad-supported streamer already has done this by selling subscriptions to ad-free streamers like Showtime and Starz.
For as much as people may prefer not to pay for more streaming services, they are also accustomed to streaming shows and movies without ads on services like Netflix and Amazon Prime Video. And people's general aversion to advertising may be slowing the growth of ad-supported streaming.
This year, the year-over-year growth rate of ad-supported video viewers decelerated, from 38.6% in 2019 and 30.3% in 2020 to 17.6% in 2021, according to eMarketer.
Of course, ad-supported streaming may just be reaching a point of maturation and saturation. This year, ad-supported video viewers will represent half of overall video viewers in the U.S., per eMarketer. And of the nearly 128 million people in the U.S. expected to stream ad-supported video this year, 89.2 million are projected to be using free, ad-supported services each month.
What we've covered
Nielsen and Comscore say the right things, but aren't progressing fast enough for ad buyers:
The shift to impression-based planning and buying for local TV advertising has been messy.
The situation has been made messier by Nielsen's recent measurement issues and a lack of consensus regarding what counts as an impression.
Read more about Nielsen and Comscore here.
Why a subscription box DTC brand is leveraging TV advertising for the first time:
Bespoke Post has started spending money on TV ads to reduce its reliance on digital ads.
Facebook and Instagram still receive the majority of the brand's $2 million-plus monthly ad budget, but TV could eventually secure 25% to 40% of its ad dollars.
Read more about Bespoke Post's TV ad strategy here.
Even with 1 billion active users, TikTok still lacks lots of basics:
TikTok is missing a lot of the basic leadership and technological infrastructure needed to secure advertisers' dollars, according to advertising executives.
Specifically, the platform needs to improve its targeting and analytics capabilities.
Read more about TikTok here.
What we're reading
Hollywood overlooks Black gay love stories:
The entertainment industry's lack of on-screen representation includes the relative absence of Black gay couples in TV shows and movies, according to The Guardian. Films like "Moonlight" and shows like FX's "Pose" have featured Black gay couples, but they are outliers among mainstream entertainment. Within the realm of online video, however, Black gay couples have been more prevalent.
NBCUniversal plots Peacock relaunch:
The initial rollout of NBCUniversal's flagship streaming service didn't go as planned thanks to the pandemic, so the Comcast-owned conglomerate is preparing a redo, according to Insider. NBCUniversal has originally sought to use the 2020 Summer Olympics to bolster Peacock's debut, but it ended up debuting the streamer without the subscriber driver. Now it has its eyes on the February 2021 double whammy of the Super Bowl and Winter Olympics — both of which will be broadcast on NBC — to push viewers to Peacock.
Patreon pushes into original programming:
Patreon has provided an alternative means for individual video creators to make money from their presences on platforms like YouTube. Now the company is looking to pay creators to produce programming for its own platform, according to Bloomberg. Patreon is in the process of securing deals with video creators, podcasters, gaming streamers and traditional celebrities to create original content that would premiere on Patreon.
Why Hulu's Kelly Campbell resigned:
Hulu president Kelly Campbell chose to leave the Disney-owned streamer because her role had been reduced, according to The Wall Street Journal. For example, Campbell was no longer in charge of Hulu's scripted programming because Disney had shifted that to the corporate level following the company taking control of Hulu in May 2019. She's now reportedly in line for an executive position at one of Hulu's foremost rivals: NBCUniversal's Peacock.
Instagram eliminates IGTV branding:
Instagram's long-form video product IGTV failed to become a front-and-center part of the platform, and now the app is phasing out the IGTV brand, according to TechCrunch. In its stead, Instagram will combine the long-form videos formerly known as IGTV videos with the regular videos appearing in its feed. In short, it is whittling down its portfolio of video products to Instagram Video, Instagram Stories and Instagram Reels.
https://staging.digiday.com/?p=427904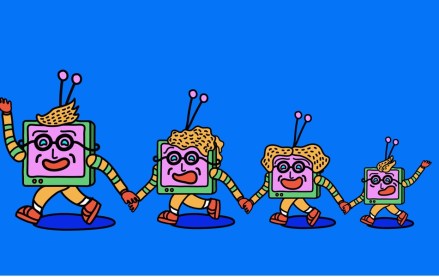 August 16, 2023 • 7 min read
This week's Future of TV Briefing looks at how the latest quarterly earnings season evinces more streaming subscriber growth struggles and a growing fondness for the bundle.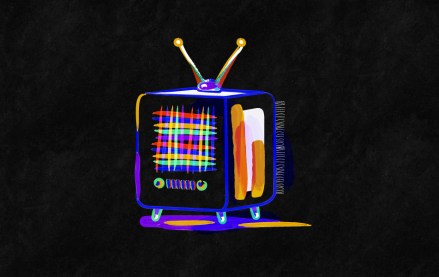 August 11, 2023 • 3 min read
It would appear that investors' enthusiasm for the CTV narrative that has served TTD, Magnite and PubMatic so well for the last 18 months is starting to plateau.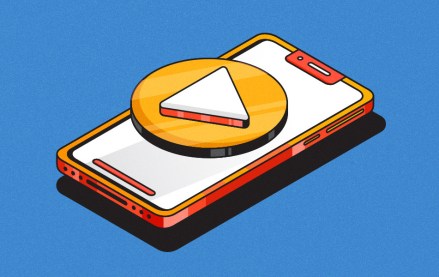 August 9, 2023 • 6 min read
This week's Future of TV Briefing looks at how platforms are pulling creators toward longer videos while brands push for shorter fare.