Future of TV Briefing: TikTok's revenue-sharing terms are turning off some creators
January 18, 2023 • 7 min read
Ivy Liu
This week's Future of TV Briefing looks at the language inside TikTok's revenue-sharing terms that has creators concerned.
TikTok's terms
FAST focus
Apple's TV ad sales exec search, YouTube's FAST play, TV advertising's multi-currency mess and more
TikTok's terms
The key hits:
To join TikTok's Pulse program, creators must agree to grant TikTok the ability to sub-license their content without receiving royalties.
The terms are likely a defensive move by TikTok to protect itself against potential legal claims.
Some creators are opting against joining the revenue-sharing program because of TikTok's terms.
TikTok has been inviting more creators to join its revenue-sharing program Pulse in recent months, but some creators who have received invites are questioning whether agreeing to the program's terms is worth the money they may receive. Two of the creators Digiday spoke to said they have decided not to accept the invites because of TikTok's terms.
To participate in TikTok's revenue-sharing program, creators must agree to grant TikTok the "irrevocable" ability to sub-license creators' content and any pre-existing materials contained in the videos — including "notes, records, drawings, designs, products, services… original works of authorship" — without paying royalties to creators, according to copies of the "TikTok Pulse Program – Creative Partner Terms" and "TikTok Creator Marketplace Terms of Service for the U.S." that were reviewed by Digiday (screenshots below).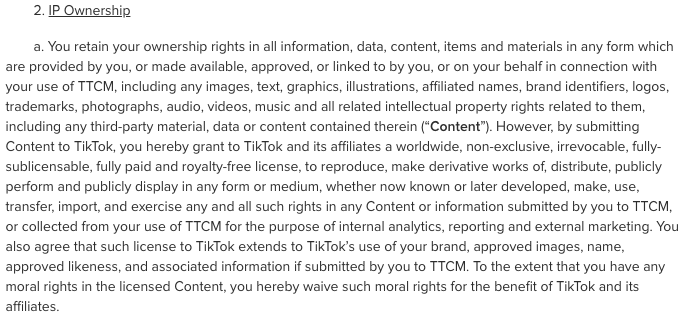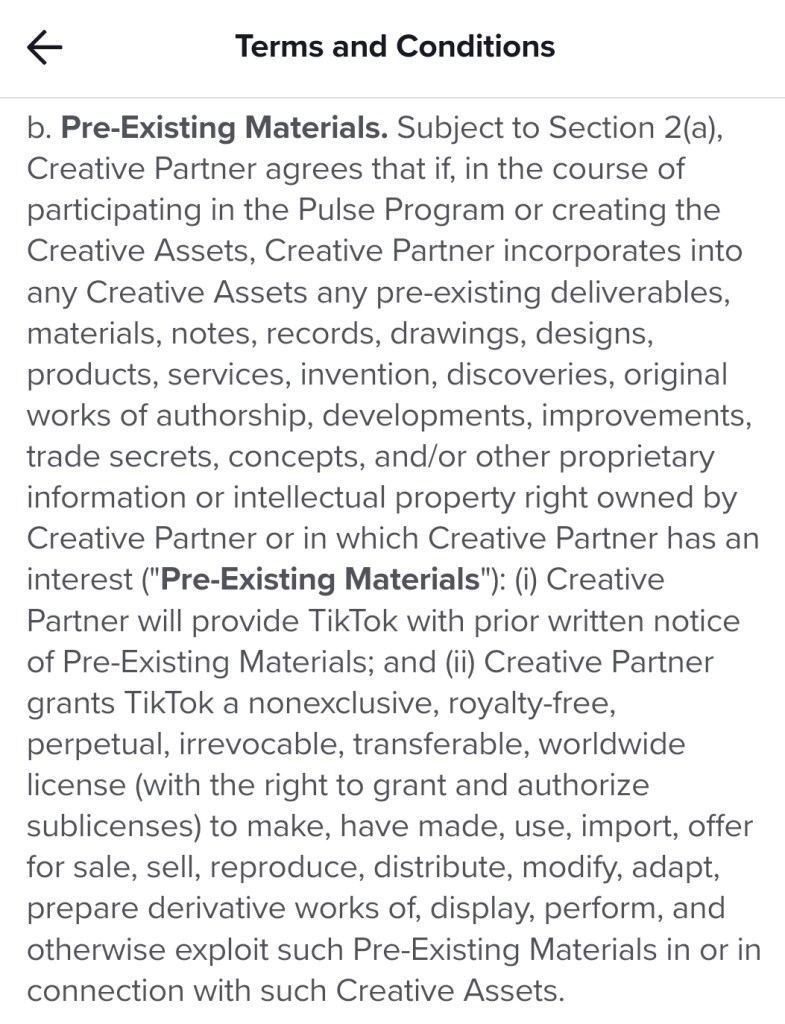 "I read that, and some alarms went off," said one creator who was invited to join the Pulse program but has decided to refrain until the terms change.
So what's the big deal with this legalese? Well, it basically means that — while participating creators retain ownership rights to their content — TikTok can take participating Pulse creators' videos and strike licensing deals, such as selling them for use in TV shows or ads, and not have to pay a cut to creators.
"This is the broadest license you can get," said John Neclerio, chair of law firm Duane Morris's technology, transactions, licensing and commercial contracts group.
In an emailed statement, a TikTok spokesperson said, "In regards to TikTok Pulse, we have no plans or intentions to sublicense creators content. In our TikTok Creator Marketplace terms, which creators need to accept as Pulse payments are run through TTCM, there is language that mentions content will only be licensed on an as-needed-basis to parties other than Tiktok, such as advertisers, in connection with campaigns. If you review the terms, you will find these are limited licensing terms and not a license to use their content broadly. Creators still retain ownership of their defined TTCM 'Content.'"
To be clear, the language seems to be primarily a defensive measure by TikTok to protect itself against potential legal claims. While the terms do give TikTok the option to sublicense creators' content, the company's aim is more likely to limit its legal exposure if creators' videos includes content from a third party that may look to sue TikTok for directly profiting off that third-party content by selling ads against a video containing the content through the Pulse program.
"This license is really just shoring up their rights with regard to pre-existing materials because [TikTok is likely] thinking 'We may be subject to a third-party claim, and we really want to show not only do we have the rights to the content, which is the creative assets, [but] we also had the rights to anything that was included in it, that the creative person used because that creative person told us that they had the right to it,'" said Neclerio, referring to a stipulation in the terms that creators notify TikTok in writing ahead of time of pre-existing materials being included in a video.
Nonetheless, the language gives the platform wide enough latitude with creators' content to unnerve prospective Pulse participants.
"I think they're just trying to cover their bases. But technically by that contract, they could sell your videos out from underneath you and not pay you squat. The rest of [the Pulse program's terms] was fine. It's just basically the sub-licensing," said a second creator. They added, "I don't want my viral videos sold to other people."
A third creator shared these misgivings about the TikTok Pulse terms but, despite that, said they planned to agree to them and join the program. "I don't put my best content on TikTok anyway," they said.
What we've heard
"There's a [Facebook] Group now that Facebook's got for some creators. It's supposed to help provide some support for larger creators. But it's mostly canned responses."

— Creator
FAST focus
YouTube has picked a fine time to reportedly toe the water of the free, ad-supported streaming TV market, which continues to emerge as streaming's heir to traditional cable TV.
While FAST services like Paramount's Pluto TV and Roku's The Roku Channel will only receive 17% of the ad dollars spent on traditional TV and streaming in 2023, that share is projected to reach 42% by 2027, according to a report released last week by consulting firm TVRev.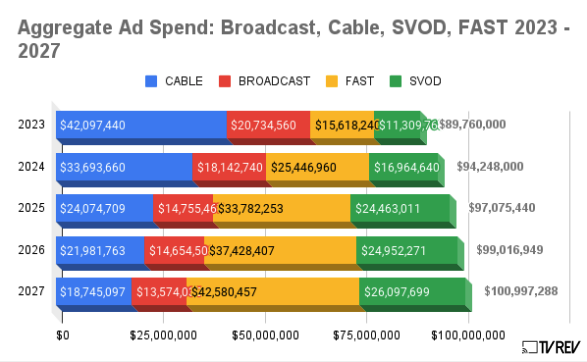 Meanwhile, the amount of time people in the U.K. spent streaming FAST channels in 2022 increased by 51%, according to TV and streaming technology provider Amagi, which powers FAST channels for companies including Fuse Media and Crackle Plus.
FAST channels have been around for several years, but they continue to gain in popularity thanks to the sweet spot they serve in the market. In addition to being free at a time when subscription-based streamers keep raising their rates (see HBO Max), they provide the streaming equivalent of the passive, wallpaper programming that has been the bailiwick of cable TV (see Warner Bros. Discovery's TV network lineup).
One prominent cable TV executive — FX Networks chairman John Landgraf — cited the market void that FAST channels are filling in a recent interview with Vulture. "And I think that, right now, there's this interesting bifurcation in that linear channels are extremely good at [providing passive entertainment] and streaming platforms are not as good at that. There's this thing in between the two called the FAST channel, which is a free, ad-supported TV channel. Because FAST channels are channels, they're sort of linear playlists or whatever," Landgraf said.
Numbers to know
$15.99: New monthly subscription price for HBO Max's ad-free tier in the U.S.
63%: Percentage share of internet-connected U.S. households that own a smart TV.
$13.1 billion: How much money people in the U.S. spent on sports streaming subscriptions in 2022.
2024: Year when Netflix will start live-streaming the Screen Actors Guild Awards on its service.
599: Number of original scripted shows that aired across traditional TV and streaming in 2022.
-2%: Percentage decline year over year in NFL viewership for the most recent regular season.
$2.3 billion: How much money DAZN lost in 2021, largely because of soccer rights costs.
What we've covered
Why BMW is cutting ties with esports in 2023:
Since 2020, the auto maker had spent millions of dollars with esports organizations and events.
BMW's marketing focus is shifting from esports to other gaming-related fields, like the metaverse.
Read more about BMW's esports exit here.
Creators face their 'worst nightmare' with possible TikTok ban:
Creators are worried that the U.S. government will ban the short-form video platform.
They are concerned about being able to duplicate their TikTok followings on other platforms.
Read more about creators' TikTok fears here.
This sexual wellness brand is doubling (actually, tripling) down on CTV:
Adam and Eve has tripled its investment in streaming ads over the past year.
The brand is using streaming to build an audience and then retarget them with display ads online.
Read more about Adam and Eve's CTV strategy here.
What we're reading
Apple's TV ad sales exec search:
Apple is in the market for a TV ad sales executive as the company preps a larger push into the streaming ad market, according to Insider.
YouTube's FAST play:
YouTube has started testing adding free, ad-supported streaming TV channels to its video platform and may officially launch the Pluto TV rival later this year, according to The Wall Street Journal.
TV advertising's multi-currency mess:
The move away from a single measurement currency provider in Nielsen to multiple currency options has been far from straightforward, and industry executives shared with Deloitte some of the top reasons complicating the transition, according to Ad Age.
John Landgraf's outlook:
The FX chief spoke with Vulture about how FX's hub inside Hulu has boosted viewership of the cable TV network's shows, how profitability pressures are likely to lead to consolidation in the streaming market and how audiences spend the majority of time watching passive programming.
https://staging.digiday.com/?p=484578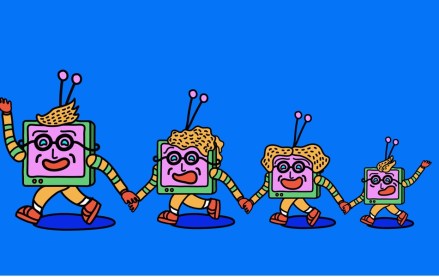 August 16, 2023 • 7 min read
This week's Future of TV Briefing looks at how the latest quarterly earnings season evinces more streaming subscriber growth struggles and a growing fondness for the bundle.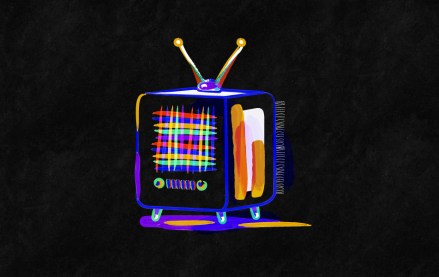 August 11, 2023 • 3 min read
It would appear that investors' enthusiasm for the CTV narrative that has served TTD, Magnite and PubMatic so well for the last 18 months is starting to plateau.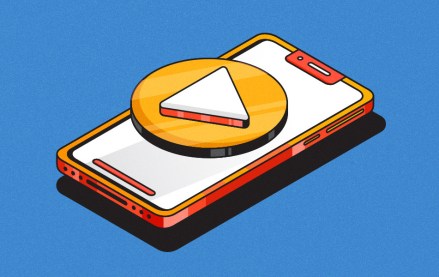 August 9, 2023 • 6 min read
This week's Future of TV Briefing looks at how platforms are pulling creators toward longer videos while brands push for shorter fare.