Future of TV Briefing: How TV and streaming businesses fared in the first quarter of 2023
May 17, 2023 • 8 min read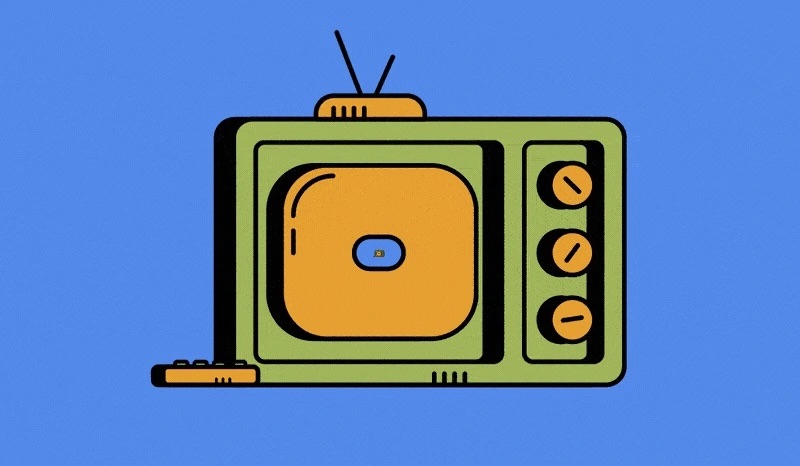 This week's Future of TV Briefing reviews the state of the TV and streaming business in light of companies' latest quarterly earnings reports.
Earnings recap
YouTube's TV market fit
TV, streaming watch time slips some more
NBCU's ad chief and Apple's top TV exec exit, Netflix's and Warner Bros. Discovery's upfront plans and more
Earnings recap
The period of correction for traditional TV and streaming video businesses isn't over. The trend of slowing subscriber growth and ebbing ad revenue from last year continued in the first quarter of 2023, as did companies' cost-cutting efforts.
Here is a rundown of the top takeaways for the TV and streaming industry from the most recent quarterly earnings period.
Subscriptions
The streaming subscription slowdown trend continued for another quarter.
Of the major subscription-based streamers, Paramount's Paramount+ registered the biggest subscriber gain at 4.1 million, while Netflix, Warner Bros. Discovery and NBCUniversal's Peacock also reported gains exceeding 1 million subscribers apiece. All four companies reported smaller gains than in the preceding period.
Then there was Disney. Three years after its runaway subscriber surge, Disney+ lost subscribers for the second straight quarter. This time the company's flagship streamer gave up 4 million customers, including 300,000 in the U.S., while Hulu gained 200,000 subscribers and ESPN+ added 400,000.
Disney wasn't the only streaming subscription business to end Q1 smaller than it entered. AMC Networks lost 300,000 subscribers, and Dish Network's Sling TV lost 230,000. And then, of course, the pay-TV business's subscriber base eroded some more, by an estimated 2.3 million subscribers across U.S. pay-TV providers.
Advertising
Companies' streaming businesses were a relative bright spot in Q1 compared to their TV advertising businesses.
"The overall entertainment advertising marketplace has been challenging. While the weakness has moderated somewhat, we anticipate that some softness may continue into the back half of the fiscal year," said Disney CFO Christine McCarthy during the company's earnings call on May 10.
AMC Networks, Disney, NBCUniversal, Paramount and WBD all reported year-over-year TV ad revenue declines for the period. Fox reported a 43% year-over-year increase in ad revenue, thanks in no small part to its airing of this year's Super Bowl. And TelevisaUnivision also saw its ad revenue increase year over year in the period, which its president of U.S. sales and marketing Donna Speciale attributed, in part, to advertisers prioritizing reaching diverse audiences.
"It used to be that the Hispanic market or multicultural used to get cut first. That is not the case anymore, because clients are really leaning into diversity and inclusion. They're realizing that the Hispanic audience is a growth driver. It is not the place that they cut first anymore," Speciale said on the Digiday Podcast.
While Disney reported lower ad revenue for Hulu, Paramount's and WBD's respective streaming ad revenues rose year over year. AMC Networks reported "digital and advanced advertising revenue growth" in its earnings report but did not break out streaming ad revenue.
By contrast, YouTube's ad revenue slipped for the third consecutive quarter. And Roku's platform revenue segment, which is largely comprised of its advertising revenue, similarly dipped in Q1.
Profit and losses
The pressure on companies to turn a profit on streaming and protect their traditional TV margins did not let up in Q1.
Netflix remains the yardstick for a profitable streaming business, though its net profit contracted by 18% year over year to $1.31 billion. And even having established a track record of profitability, Netflix still plans to cut its content spending by $300 million this year.
Disney and TelevisaUnivision managed to pare back their streaming losses and move their respective streaming businesses closer to profitability, though each remained in the red. NBCUniversal's and Paramount's streaming businesses also lost money as their costs increased.
Meanwhile, WBD's aggressive cost-cutting measures since last year's merger netted the combined company a $50 million streaming profit in Q1, and the company expects its U.S. streaming business to maintain profitability for the rest of the year. "Our U.S. streaming business is no longer a bleeder," WBD CEO David Zaslav said during the company's earnings call on May 5.
The rundown
For all the upheaval in the TV and streaming industry in recent years, the condition of the TV and streaming business has somewhat stabilized. The areas of growth are largely associated with newer entrants and newer revenue lines, while more established businesses — from traditional TV to the likes of YouTube and Roku and even Disney+ — have hit a plateau.
An outlier to all this is Netflix. The company appears to be the exception when it comes to the trend of stagnation and struggle among legacy businesses. Then again, Netflix did suffer through that in the first half of last year and had spent the previous decade-plus building to a profitable streaming business. And even still, Netflix's subscriber growth has slowed, and the company is in cost-cutting mode.
Maybe, three years after the pandemic-induced streaming surge, this is the new normal — for now.
What we've heard
"There are numbers that are basically showing that [panel-based measurement] was really off [when measuring Hispanic audiences]. And I'm not talking 2%. I'm talking 20-30-35%, depending on how you look at it. That's not a statistical error."

— TelevisaUnivision's Donna Speciale on the Digiday Podcast
YouTube's TV market fit
A common thread throughout "The Future of TV" video series was YouTube's position in the TV, streaming and digital video ad market, especially as the definition of "TV" broadens to "premium video" and with YouTube as now the dominant streaming service on TV screens. So I put together this bonus episode on how agency executives see YouTube fitting into the TV ad market at the moment.
Numbers to know
~$110 million: How much money NBCUniversal is paying the NFL to exclusively stream a playoff game on Peacock next year.
-51%: Percentage decrease in Los Angeles film permit requests in the first week of the Writers Guild of America strike.
76%: Percentage share of surveyed Latinx viewers that subscribe to at least one streaming service.
6.4: How many video services, on average, people currently use, down fro 7.4 last year.
~25%: Percentage share of U.S. streaming subscribers who signed up for an ad-supported tier in February.
$223.5 million: How much money 92 film and TV productions are estimated to have spent on COVID-related costs in the past two fiscal years.
TV, streaming watch time slips some more
For the third straight month, people in the U.S. spent less time watching shows, movies and videos on TV screens than they did the month prior, according to Nielsen's The Gauge viewership report for April 2023.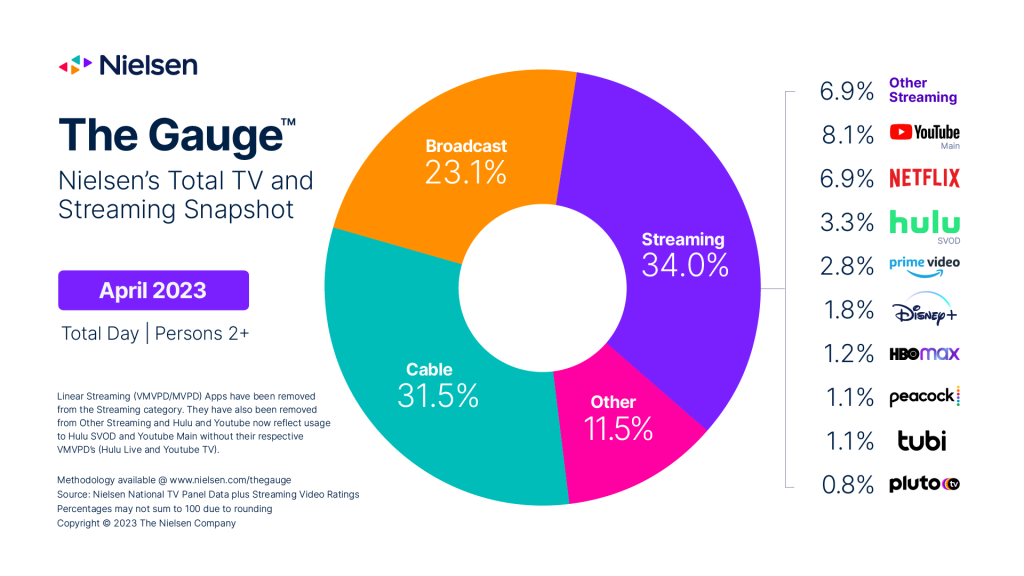 TV watch time slipped across the board, with broadcast TV (-2.7%), cable TV (-0.6%) and streaming (-2.1%) all registering month-over-month declines.
The share of watch time for individual streaming services was largely stagnant in April.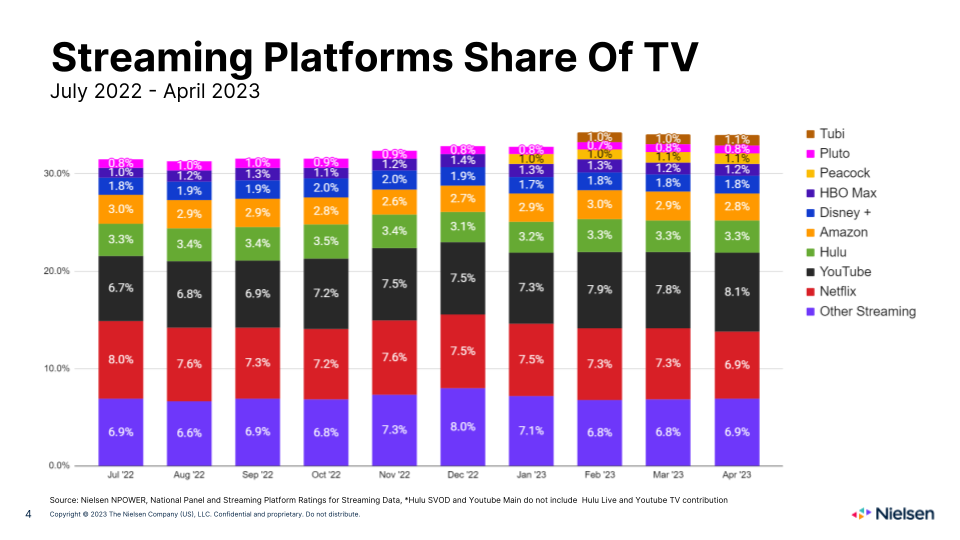 YouTube notched the biggest gain at 0.3 percentage points, while Netflix recorded the largest loss at 0.4 percentage points, leading to the Google-owned video platform to widen its lead over the latter streamer for largest share of streaming watch time on TV screens.
Between the two free, ad-supported streaming TV services that have made it into Nielsen's broken-out rankings, Fox's Tubi extended its lead over Paramount's Pluto TV, which still has yet to return to the 1.0% share mark since doing so in September 2022.
What we've covered
TelevisaUnivision's Donna Speciale sees TV's measurement shift shoring up underrepresentation issue:
Nielsen's panel-based measurement undercounted Hispanic audiences by as much as 35% compared to its new data-based measurement system.
TelevisaUnivision has also brought the underrepresentation issue to the attentions of VideoAmp and iSpot.TV.
Listen to the latest Digiday Podcast episode here.
How TikTok is courting advertisers:
TikTok is charging advertisers at least $20,000 for access to its TikTok Creative Exchange program.
The program offers two available packages for TikTok's in-feed ad formats.
Read more about TikTok's ad sales pitch here.
It's going to be a bumpy ride through the 2023 upfront marketplace:
Ad buyers expect this year's upfront market to favor their side.
They also see a soft scatter market working in their favor.
Read more about this year's upfront market here.
How media agencies are tightening brand safety and transparency measures as influencers tap AI:
Agencies are asking influencers to disclose when they use AI tools.
Standards may become necessary as AI tools become more commonplace in influencer content creation workflows.
Read more about agencies' AI influencer measures here.
What we're reading
Days before NBCUniversal's upfront presentation, the Comcast-owned media conglomerate's ad boss Linda Yaccarino has stepped down to become Twitter's CEO, according to The Wall Street Journal.
The exec who has run Apple's TV app and TV+ streaming service as well as negotiated its sports rights deal with Major League Baseball and Major League Soccer — Pete Distad — is leaving the company, according to Bloomberg.
Netflix has canceled its in-person upfront presentation and opted for a virtual event after Writers Guild members planned to picket outside the venue, according to Adweek.
Warner Bros. Discovery's upfront pitch:
A year after subjecting ad buyers to sticker shock, WBD is looking to be more fluid in how advertisers can move their money around across its inventory pool, according to Insider.
As Paramount reportedly shops for a buyer for BET, the TV network's streaming service is looking to sell advertisers on an ad-supported tier that its streaming service will debut next month, according to Ad Age.
TikTok is pushing back its plan to open up its shopping platform in the U.S., in part because of its potential ban domestically but also because live shopping has yet to gain much traction stateside, according to The Wall Street Journal.
https://staging.digiday.com/?p=504089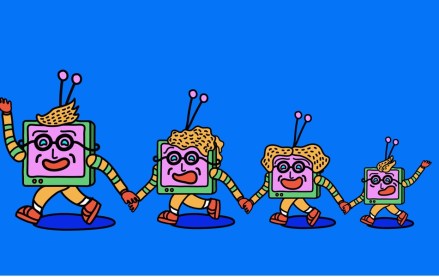 August 16, 2023 • 7 min read
This week's Future of TV Briefing looks at how the latest quarterly earnings season evinces more streaming subscriber growth struggles and a growing fondness for the bundle.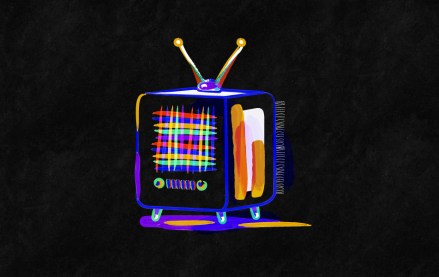 August 11, 2023 • 3 min read
It would appear that investors' enthusiasm for the CTV narrative that has served TTD, Magnite and PubMatic so well for the last 18 months is starting to plateau.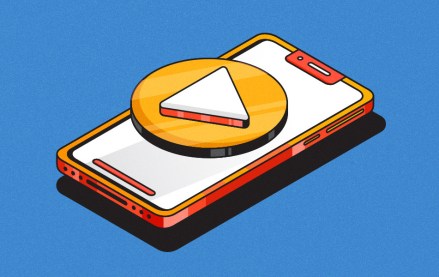 August 9, 2023 • 6 min read
This week's Future of TV Briefing looks at how platforms are pulling creators toward longer videos while brands push for shorter fare.