Sponsored
How the people of programmatic describe their jobs at parties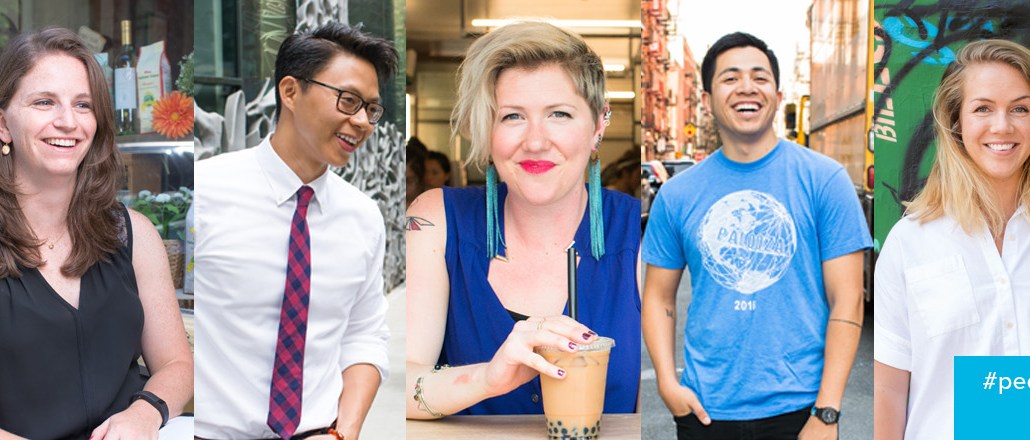 Once upon a time, it was impolite to ask someone new what they did for a living. In 2016 it's one of the first questions you're asked—right between "What's your name?" and "Are you on Snapchat?" It's a question more easily answered for some than others. Say you work in advertising and people picture Mad Men. But if you work in advertising technology, you may have a lot of explaining to do before the second drink.
Ad tech is growing fast, and creating distinct, multifaceted and highly coveted job descriptions. But just how do these jobs vary from data analysis to product design, engineering to sales? We caught up with three team members at The Trade Desk who explained what they do and how they convey the details of their role at a cocktail party.
Jeremy Buch, senior software development engineer
Ad rendering preventing in staging

Ad position: web_incontent_pos1
How would you tell a non-industry friend what you do?
I tell them that we provide the functionality that lets advertisers know where to reach the people that they're advertising to.  We can figure out if someone is near a Target, or in a coffee shop, or whether they are interested in basketball, or have a certain median income range.
What's on your to-do list?
We start the day with our morning scrum. Then I usually contact our partners to do some testing and ask questions and log into our data centers in Tokyo, Toronto, or Singapore. I check in with the guys who work on our databases in Australia, work with our team in California to resolve any issues, then it's all programming, testing, debugging and production. We gather logs, look at how products perform and send test data. Then somewhere between 3:30 and 5 pm someone will send out the message saying "I'm ready for a beer."
What's the most important thing you do every day?
Honestly it's the social things we do. We'll often head out for lunch as a group, or share a bottle of wine. We sometimes have these giant Nerf battles. I think [the fun stuff] is really important.
What's the most exciting challenge you've solved recently?
One of the guys on the integrations team was getting this multi-gig text file from a data partner who was pushing us data. Then, he had to go through and basically use a text editor to clean up the data. It was taking them days to get that stuff done.
I was excited by this. I thought, "Okay, spend a little bit of time after work building a tool." I think it took an hour and a half, and it completes the work that previously took days in about seven seconds. That's what I love the best.

What keeps you motivated?
I really enjoy knowing that I have the opportunity to use my skills or talents to make life easier for someone else and to do what I can to help them. I'd say that's one of the big wins.

Ephraim Albaro, data specialist
How would you explain what you do at a cocktail party?
I like to tell people we give them access to the entire internet. Anywhere you see ads, we're the technology that allows advertisers or agencies to run ads pretty much wherever we can.
What's on your to-do list?
Mainly coding or programming with data; the majority of my time is spent connecting the dots, and so much of that is trial and error. Managing and tracking performance also takes a good portion of my day. We're constantly looking at whatever data we have coming through to inform us on how to make [the product] better.
What's the most important thing you do?
Definitely answering questions. If I can spread knowledge, if I can make other people better, then that makes our company better. Not only that, it makes the industry better.
What's the most exciting thing you're working on right now?
I spend a lot of time doing secret sauce stuff. The most recent project involved looking at in-app inventory, to understand how we can give transparency to advertisers. We can look at what iTunes says, we can look at what Google Play says, but when you actually go look at the apps, there's a divide between what publishers and advertisers see. We're bridging that gap by manually looking at the data. We connect to some of their APIs and look for data signals that suggest how to resolve those differences.
Data analyst is one of the hottest jobs around. What keeps you in programmatic?
What keeps me excited personally, is that I get to build and create stuff. I feel like it's the wild west and I'm making the Oregon Trail. There's no path there yet and there will be people behind me that go make the highways and make them run fast and efficient. But for me, it's the creation. It's the building. It's the cause. It's a revolution of internet advertising.
Amber Joi Seipel, senior director, business development
How do you explain your job to friends who aren't in the business?
I feel like I do this often, so I have it down. I say, "Have you ever noticed that when you go to a website, or an app on your phone, or on the TV, or if you're on your computer that some of the ads are relevant to you, whether it's because of the location that you're in or sites that you go to? " Then people will nod their heads and say, "yes." From there I say, "Well, a lot of those ads are bought and sold at auction in real time." This is usually when people go, "Really? I had no idea!"
What's on your to-do list?
Lots of meetings and calls with clients. More often than not, we try to do these interactions in person. I introduce us to new clients, and bring pitches and insights to our existing clients from campaigns we've run previously. I also try to find time to focus on strategy and planning. We look for new opportunities and listen to what's next for us so that we can offer it.
What's the most important thing you do every day?
On any given day, I'm working with a small team on a handful of accounts. It's important to stay in constant communication and to be talking about what's needed and what's next.
What's the challenge that you're most excited about?  
I think the magnitude of the clients themselves is a big challenge. The team I work with is responsible for a major holding company and when I started three years ago, it was a matter of finding anyone there who would be willing to talk to me. Now, keeping growth steady, finding new opportunities and turning more people into advocates for the platform is the challenge I'm most excited about.
What keeps you excited about working in programmatic?
I love this industry because it's constantly evolving, so you are always challenged and always learning. The fact that at a macro level we're positioned to help guide that evolution is super exciting to me. Even when you think about the day-to-day, there are always new features or integrations that you need to know the ins and outs of, not to mention entirely new channels like digital audio. There is so much opportunity out there and I don't see the pace of change slowing down any time soon.
Ad rendering preventing in staging

Ad position: web_bfu