Sponsored
Why marketers are the ones who will fix the digital ad fraud problem
Tom Drouillard, CEO, president and managing director, Alliance for Audited Media
Ad fraud causes $6 to $16 billion to exit the digital advertising ecosystem and flow into the pockets of people who manipulate the system. The current supply chain structure makes it easy and attractive to commit ad fraud with little chance of retribution. Marketer frustration is building and causing them to question, rethink and reallocate their digital investments.
How do we bring greater assurance to the digital supply chain and build a quality ecosystem built on trust and transparency? First, we must understand how the money is made and how fraud is committed in the ecosystem.
Anatomy of digital ad fraud
Ad fraud takes place on both fake and legitimate sites. In a fake site fraud scenario, the fraudster creates a bogus website, plugs into programmatic exchanges, buys traffic for the site, sells and displays the ad impressions, and collects the money. Ad fraud also occurs on legitimate websites next to real content displayed to nonhuman traffic often purchased through illegitimate traffic sourcing.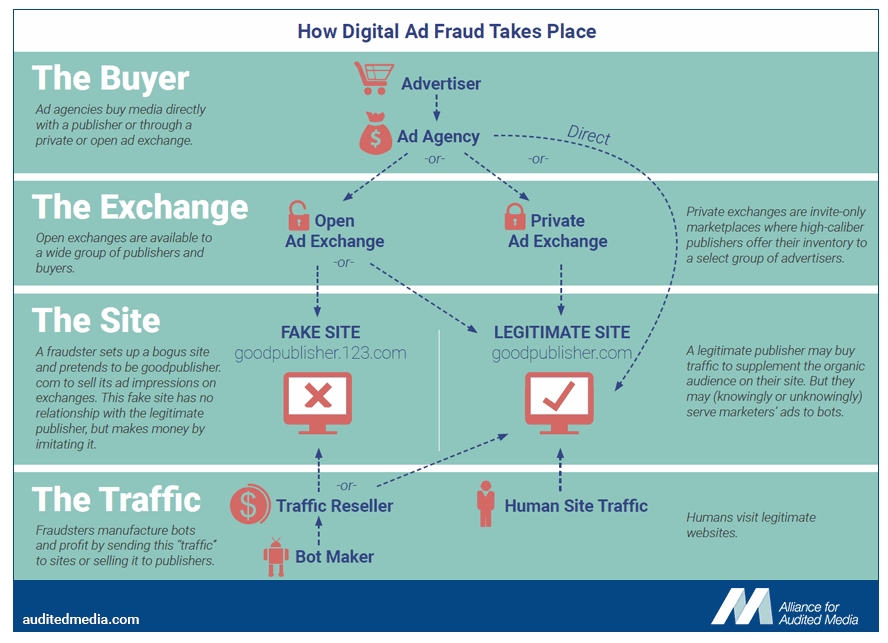 Fraudsters create bots to commit both fake and legitimate site fraud but they don't covertly send their bots to legitimate sites in substantial numbers because they don't make money that way. Instead, they make money by selling manufactured bots as "traffic" to publishers. Traffic sourcing is a common means for publishers to fulfill advertiser demand, but many publishers do not know the traffic they purchase is not human. Legitimate site fraud occurs when a publisher, knowingly or unknowingly, sources or buys traffic and introduces bots onto the site.
When robots masquerade as human traffic
Traffic sourcing is any method by which digital media sellers acquire visitors through third parties. Some of those activities are legitimate, such as a sponsored post on social media. Some however are not, like when a publisher pays a traffic supplier for a fixed number of visits to their website.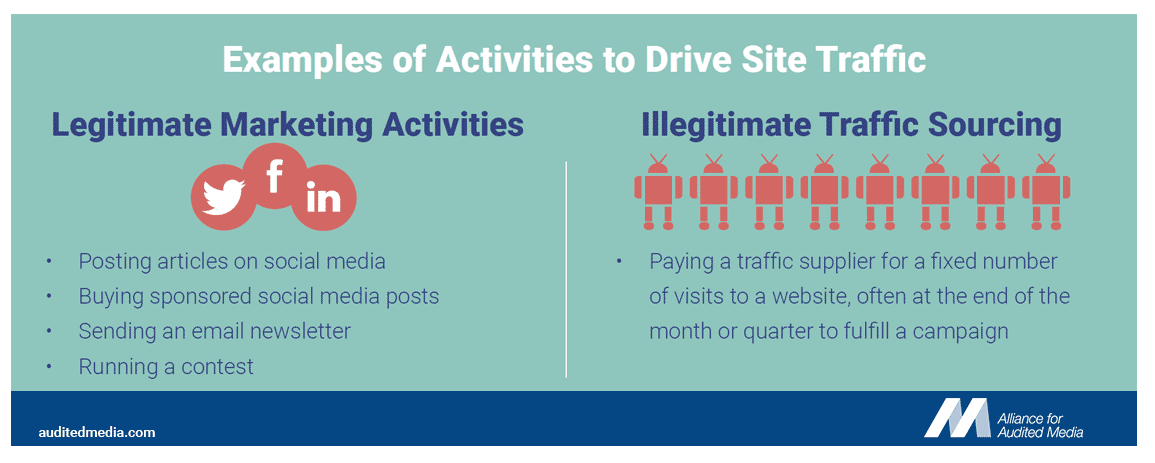 Traffic sellers often promise the publisher that the traffic offered is human and will pass through all ad fraud detection filters, but the traffic is often robotic. The publisher might not know this traffic is robotic because it may appear human in their fraud detection reports. It might also appear as human traffic in the advertiser's fraud detection reports. And many marketers do not know that purchasing traffic is a common way for publishers to fulfill demand.
Ad fraud measurement doesn't stop fraud
Ad rendering preventing in staging

Ad position: web_incontent_pos1
Ad fraud detection services measure and filter nonhuman traffic. They play an important role as they produce the measurements on which the market transacts. Commonly, separate measurements initiated by buyers and sellers don't match, creating confusion, and frustration.
There are three root causes of ad fraud measurement disparities. First, there are technical differences in how publishers and advertisers measure nonhuman traffic. Advertisers measure from the ad, while publishers measure from the page. Technically, these are very different approaches and produce different numbers. Each fraud measurement vendor employs their own proprietary methodology, so two vendors measuring the same ad campaign will likely produce different results. Lastly, illegitimately sourced bot traffic can pass through fraud detection and thereby produce misleading metrics. There's been a false sense of security with ad fraud measurement as it measures fraud but doesn't stop it.
Marketer actions will be the fix
2018 may be the year that marketers fix the ad fraud problem through their own buy-side actions, as well as the thorough encouragement of sell-side actions from their publishing partners. They have begun addressing the fraud issues by taking more active control of their media spend. Many are moving programmatic buying in house, buying through private marketplaces, buying direct and focusing their investments on white-listed publishers.   
In addition to these buy-side initiatives, marketers are demanding that their publishing partners adopt new solutions that have been specifically designed to hit the fraud problems head on including ads.txt and independent digital publisher audits. These new sell-side solutions address the fundamental problems associated with fake and legitimate site fraud. With new solutions available to address ad fraud, marketers are leading the change that is necessary to clean up the environment. Find out more by downloading AAM's full white paper: Three Truths That Help Confront the Digital Ad Fraud Crisis.
Ad rendering preventing in staging

Ad position: web_bfu