Media Briefing: After Google's cookie reprieve, publishers' identity tech adoption slows to a crawl
September 9, 2021 • 12 min read
•
•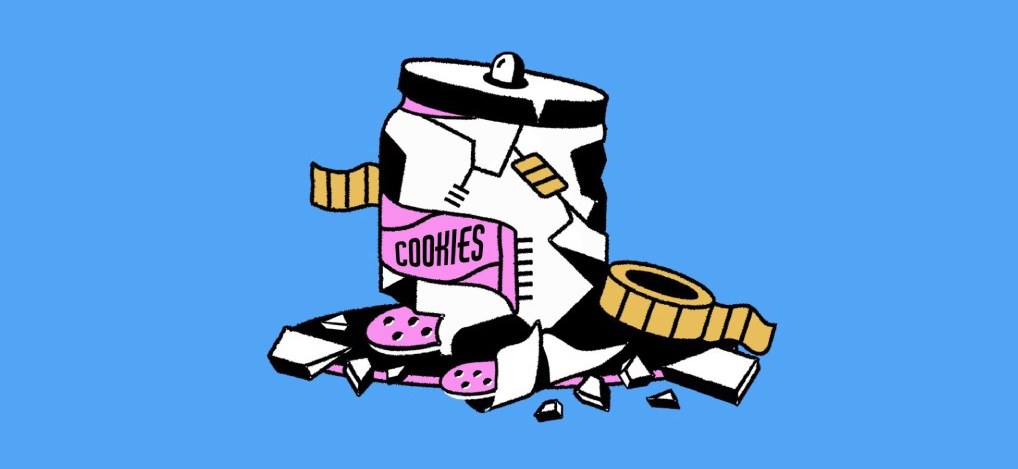 In this week's Media Briefing, platforms, data and privacy reporter Kate Kaye explores how Google's third-party cookie extension has affected publishers' adoption of alternative identifiers.
ID check
Publishers' subscription ambitions are still warming up
TikTok revitalizes voiceover videos
Fashion magazines' Black underrepresentation and editor exodus, Substack's middle tier, the new Gawker and more
ID check
Identity tech providers were already struggling to get publishers on board to use their alternate identifiers in advance of Google's self-imposed deadline to disable third-party cookies in its popular Chrome web browser. Google's decision to extend the deadline from January 2022 until late 2023 could make it harder.
"If Google hadn't made that announcement, we would already certainly be testing, probably, multiple identity partners because of the lead times that are needed to know that something is really good," said Clark Benson, CEO of pop culture list publisher Ranker.
But now the publisher still hasn't signed on to use any yet. "We've had conversations with many companies involved in different identity solutions, most likely with the plan to implement more than one, but we haven't pulled the trigger yet on any one," said Benson, adding that the cookie extension gave him more time to "make a better-informed decision."
If it weren't for the extra time, "we might be in a little bit more of a rush with our authenticated identity," said Mike Griego, director of ad technology for Penske Media Corporation, which publishes titles including Rolling Stone and Variety. Although PMC is already "deep in the throes of integrating ATS [LiveRamp's identity tech for publishers]," he said, Google's cookie extension took the pressure off when it comes to evaluating or implementing other alternate identifiers.
The key hits:
Google's third-party cookie extension has reduced the urgency for publishers to adopt alternate identifiers.
It's also opened a window of opportunity for them to avoid identity tech altogether.
Other factors contributing to publisher hesitance include a lack of advertiser demand and questions about whether early adoption is worth it for publishers.
An alternative to alternative IDs
Google's extension doesn't only take off the pressure; it gives publishers an incentive to find ways to ignore identity tech entirely, according to one executive at a large publisher who spoke on condition of anonymity. "It will help reassure publishers that their hands aren't tied and they won't be forced to adopt an alternate identifier," said the exec who argued that publishers have more time to test ways to derive ad revenue without "feeling disintermediated from the chain."
Publishers appear to be in little rush to adopt cross-site audience tracking and targeting tech that merely perpetuates the problem that third-party publishers posed to publishers: stripping their value by separating them from their audiences, according to Rob Beeler, who had his ears to the ground at a recent in-person event for publishers held by AdMonsters, an organization which he chairs.
"The ID solutions are trying to replicate what works today and that's not to a publisher's benefit, and so why help so early on in the process to replicate that?" said Beeler, who manages ads for publishers as CEO of consultancy Beeler.tech. That presents identity tech providers with "an uphill battle," said Beeler. But he acknowledged, "I don't know that they're toast."
Absent advertiser demand
Publisher adoption is only one side of ID tech providers' uphill battle, though. Advertiser demand has to be there, too, and, since third-party cookies still work, advertisers aren't forcing the issue, said Sara Badler, svp advertising and partnerships at Dotdash, which owns publications like Verywell and The Spruce. "I don't think there are any demands" for identity tech from advertisers, she said.
Rather than targeting specific people in Dotdash properties, advertisers tend to buy from the publisher based on the intent people demonstrate through search (think "Taco Tuesday recipe ideas"), according to Badler. That predilection toward contextual and time-of-day targeting in place of audience targeting likely offsets any urgency to embrace tracking alternatives for the publisher. However, she said Dotdash is "definitely in conversations with LiveRamp" as well as other identity tech providers.
Advertiser demand is key for PMC's Griego, too. His decisions to use identity tech have been based on whether advertisers buying through demand-side platforms want identity links. While PMC has implemented some identifiers across all of its sites — including LiveRamp's ATS and Merkle's identifier — he expects to be selective. "There comes a point when you want to wrangle in some control over how many identities you're integrating with," Griego said.
What's the ROI for identity tech?
Then there's the bottom line. At this stage, said Beeler, publishers aren't convinced they'll make more money if they implement identifiers. Relaying what he's heard publishers say, he told Digiday, "Until I hear that publishers are making more money off the identified, authenticated audiences, it doesn't seem like I have to do anything on that front at all until we're closer to the date [of Google's deadline]."
Meanwhile, at least one publishing exec said his site is ahead of the game. "Kudos to us for getting our homework done on time," said Justin Wohl, chief revenue officer at Salon, which has implemented identity tech from LiveRamp, ID5, Neustar and Amazon. Now, he and his team have more time to calibrate data flows to enable the most identity matches possible. That requires some tweaks Salon wants to make to fine-tune how data coming from its site connects with identity systems.
"We need to get better timing in our dance routine here," he said. — Kate Kaye
What we've heard
"It's just time to change the channels we use to talk — and listen — to each other."

— Salon staff writer Mary Elizabeth Williams announcing the political news outlet's decision to shut off comments
Publishers' subscription ambitions are still warming up
People whose heads are already spinning at the number of paywalls and subscription products out there should strap in and get comfortable.
Growing subscriber revenue is expected to be a major focus for publishers in the second half of the year, even for a significant percentage of publishers that don't make any money from subscriptions right now, according to new Digiday+ research.
In July, Digiday surveyed 117 publisher professionals about a number of different topics, including how their brands make money and how their brands would be prioritizing those revenue streams in the next six months.
Among publishers that do generate at least some subscriber revenue, 35% said that growing subscriber revenue would be a "very large focus." Digiday asked respondents to indicate, using a five-point scale, how big of a focus different revenue streams would be over the next six months, with "very large focus" being the biggest. Those revenue streams ranged from established revenue streams, such as direct-sold and programmatic advertising, to more emergent revenue streams, such as affiliate commerce.
That 35% for subscriptions was the second highest number among the choices respondents were given; only direct-sold advertising had a higher percentage of respondents — 42% — indicate that its growth would be a "very large focus."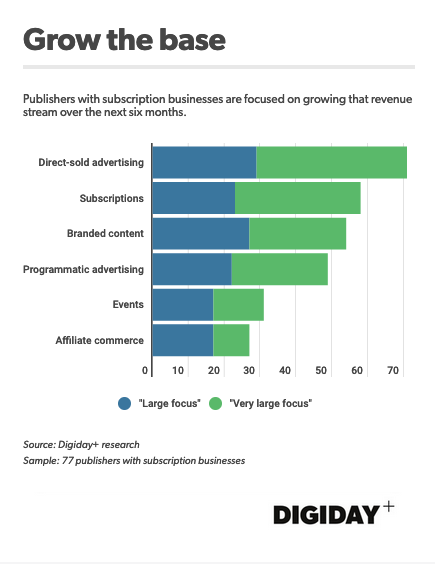 Yet publishers that haven't gotten into consumer revenue yet want in. A quarter of the publishers that do not generate revenue from subscriptions said subscriber revenue would be a focus in the next six months.
While subscriptions are a much-discussed topic in media at the moment, a significant percentage of publishers do not generate much money from them yet. More than a third generate no subscription revenue at all, while another quarter get "a very small amount" of revenue from them, the survey found. For context, slightly more than a third — 35% — of publishers with subscription businesses said it constitutes a "large" portion of their revenues.
A significant number of publishers will be looking to change that this fall.
About half of the respondents that indicated they make money from affiliate commerce, for example, said that only "a very small portion" of their revenue came from it. — Max Willens
Numbers to know
$7: How much money Vox Media's The Verge will charge for monthly subscriptions to Hot Pod, its first subscription product.
40,000: Number of subscribers that Defector has attracted since its launch in September 2020.
$100 million: How much revenue Dotdash expects its commerce business to contribute this year.
50,000: Average number of Apple News+ subscribers that each of the top 25 U.S. magazines had on the iPhone maker's news-reading app through the first six months of 2021.
$4.99: Monthly subscription price for Gannett's USA Today Sports+ after its promotional rates expire.
TikTok revitalizes voiceover videos
TikTok has kickstarted plenty of trends that have rippled across the broader digital video landscape. It has also resurrected the use of voiceover in videos outside of YouTube, opening up opportunities for publishers to piece together new videos from old clips and to produce videos that aren't as tethered to the visuals.
"Thrillist used to do [voiceover videos] a lot on YouTube, and we just couldn't make it work on social video. The captions were too small; it was too fast; the people didn't like it. TikTok coming in and revolutionizing the idea of voice-to-text has, in a way, brought us back to being able to use voiceover," said Erin Weaver, senior director of audience development at Group Nine Media.
Voiceover can be a particularly valuable tool for video publishers because it provides them with more flexibility in the videos they produce. "Voiceover really frees you up from, at times, a burdensome amount of preproduction planning," said Jesse Wood, chief creative officer at Donut Media.
For example, a video's visuals do not need to be shot specifically for the attached audio but can instead be cobbled together from existing, otherwise random clips. "We've definitely been utilizing [voiceover] more and more to assemble edits from productions we've had to do quickly," Wood said.
The voiceover trend has also freed video publishers from being limited to making videos in which on-screen talent can narrate the storyline or relying on lengthy captions (and counting on viewers to actually read the captions) to do the job. "It's given us a lot more room to tell good stories," Weaver said.
In keeping with the overarching trend of TikTok informing video approaches on other platforms, publishers are also exploring extending their voiceover videos elsewhere. "We've definitely dabbled a little more [in voiceover video] on Snapchat and Instagram more so than in the past. It's becoming a little more of a trend and originated more so in getting that much more popular on TikTok," said Joe Caporoso, evp of media at Team Whistle. — Tim Peterson
What we've covered
The Washington Post wants three minutes of your morning to read (or listen to) its newsletter:
The D.C.-based publisher debuted a short daily briefing called The 7 on Sept. 7 that highlights seven of its top stories of the day.
Each briefing will be available as an emailed version and in text and audio formats.
Read more about The Post here.
Women of Color Unite's Cheryl L. Bedford is fighting 'exclusion by familiarity' in entertainment:
Women of Color Unite operates two programs that are aimed to help women of color get in the door and move up the Hollywood ranks.
Its #StartWith8 program originated after the murder of George Floyd in May 2020 and gets established people in Hollywood to commit to giving their time and energy to support eight women of color apiece.
Listen to the latest episode of the Digiday Podcast here.
Jacob Wolf takes esports expertise to podcasting as he continues to influence a new generation of writers:
The former ESPN reporter has formed a production company to expand into TV, film and audio.
He is producing an investigative podcast series on esports.
Read more about Jacob Wolf here.
Salon turns off comments and banks on email newsletters to generate identity connections for targeted ads:
Salon's commenting capability provided a means of gathering emails.
Less than half of a percent of Salon's unique visitors used its comments tool.
Read more about Salon here.
Barstool Sports will launch a channel on Sling TV:
The bets-focused sport outlet's channel will be programmed with a repository of existing programming.
Barstool Sports will also carry a number of live college football pre-game shows.
Read more about Barstool Sports here.
What we're reading
Black representation at fashion magazines remains a work in progress:
Nikki Ogunnaike was named digital director at Harper's Bazaar in November, and when she started her career interning at fashion magazines nearly 15 years ago, she said she grew accustomed to being one of two Black people on staff, according to The New York Times. Since last year, there has been an acceleration of diversification in the industry, sparked by the murder of George Floyd and the social unrest that followed, but the question remains if this change will continue on or if the fashion industry will fall back into old patterns of treating racial progress as a trend.
Meanwhile, fashion editors are splitting from the media industry to join Silicon Valley:
Aya Kanai worked in fashion for over two decades, most recently serving as the editor-in-chief of Marie Claire, and developed a fluency in industry jargon, which ultimately led her to be poached by Pinterest as its new head of content and creator partnerships, wrote The Cut. Kanai is not the only top editor to make the leap to the tech and platform space, largely because that's where the promise of promotion is — and where there is more money.
Substack's middle tier isn't generating the big bucks:
When Simon Owens first launched the paid edition of his media newsletter on Substack in February 2020, he was generating only one thousand dollars per month, which he said caused him to hemorrhage money between his business and life expenses. And yet, he decided to turn down a six-figure job just months before that to focus solely on building his newsletter and podcast products. "I belong to a group of Substack writers who don't get written about much in the media … and I want you to understand the sacrifices we have to make while building our newsletter businesses," Owens wrote in his newsletter from earlier this month.
The new Gawker is toggling the line between staying true to its roots while not being mean:
Leah Finnegan, the top editor of the celebrity gossip blog, told The New York Times that she's "not interested in ruining people's lives" with the new iteration of Gawker. Gawker spent 13 years exposing celebrities' private lives and releasing sex tapes, but in a note to readers in July, Finnegan said that what needs to be the center of the site is its sense of satirical humor and unique voice.
https://staging.digiday.com/?p=425135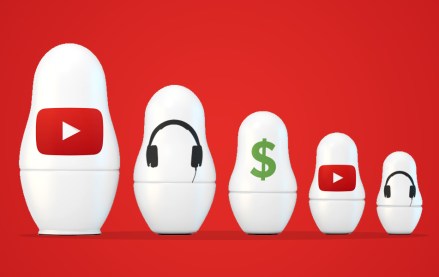 August 17, 2023 • 3 min read
•
•
Adalytics Research asks, 'Are YouTube advertisers inadvertently harvesting data from millions of children?'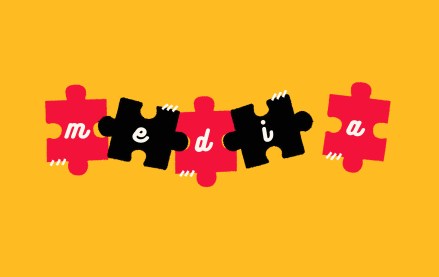 August 17, 2023 • 10 min read
•
•
Publishers' Q2 earnings reveal digital advertising is still in a tight spot, but digital subscriptions are picking up steam.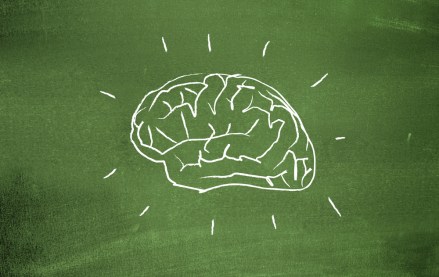 August 17, 2023 • 5 min read
•
•
Experts reflect how the failures of social media and online advertising can help the industry improve the next era of innovation.