Future of TV Briefing: How the Hollywood strikes could end up swinging the upfront to streaming
July 19, 2023 • 8 min read
•
•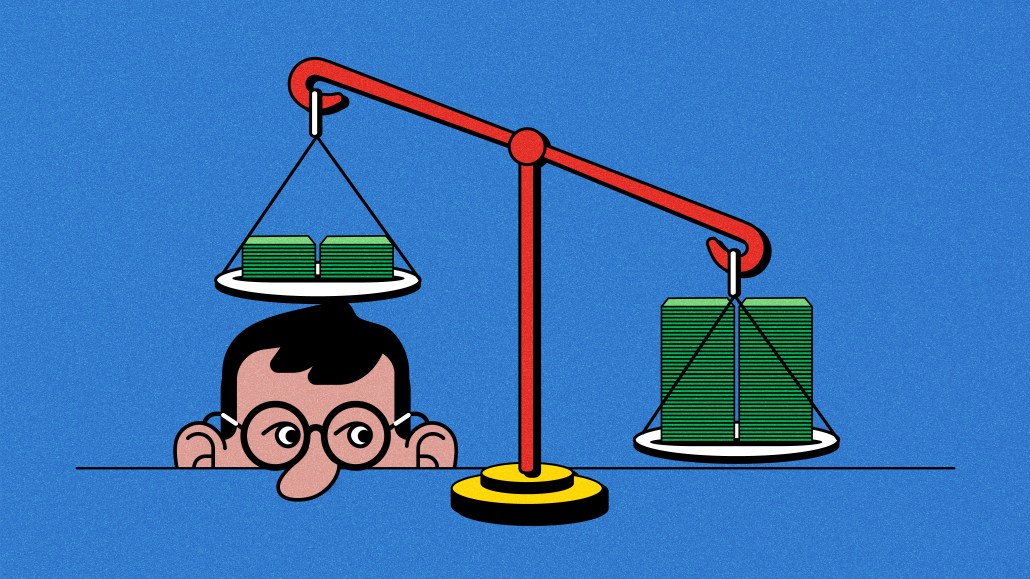 Ivy Liu
This week's Future of TV Briefing looks at how this year's upfront negotiations are shaking out and how the writers' and actors' strikes could further reshape the market.
Striking the upfront
TV watch time bounces back
Studios' AI demands, actors' slim streaming residuals, Disney's non-core TV business and more
Striking the upfront
Traditional TV has once again won the majority of upfront dollars. For now.
Roughly 60% to 70% of upfront dollars committed so far have been earmarked for traditional TV, according to agency executives. But negotiations are still ongoing with some upfront sellers, including Netflix and TV network owners like BET and TelevisaUnivision that have streaming-heavy pitches this year and are likely to see investment increases as advertisers dedicate more upfront dollars to multicultural programming as part of their diversity, equity and inclusion commitments. That could further shake up the shares if the overarching trend of this year's upfront continues. So far upfront spending on the traditional TV side is down by around 10% while upfront dollars going to streaming are up by roughly 5% to 10%, per agency executives.
And then there are the Writers Guild and now Screen Actors Guild strikes that could ultimately end up tipping the balance of upfront budgets toward streaming while further winnowing the amount of money committed in this year's upfront.
"I think it would benefit the streamers. What makes the headlines is all the new programs, but the stickiness is all the legacy library programming that people stay with," said one agency executive.
In other words, if traditional TV doesn't have much in the way of new programming on offer in the fourth quarter — outside of sports and reality TV shows — then audiences may spend even more time rewatching old shows on streaming services. And in that case, TV network owners would need to switch up their inventory mix to use their streaming supply to fulfill more of their upfront guarantees, and advertisers may opt to cancel portions of their upfront commitments with TV network owners to redirect their dollars to streaming-only sellers. Agency executives said the money most at risk of being moved are those dollars allocated to broadcast networks' primetime programming and late-night shows.
"I think the bench strength of some of the streaming services gives them more time to wait this out," said a second agency executive.
However, another reason the strikes could siphon upfront dollars from traditional TV to streaming is that advertisers cancel their upfront commitments and take that money out of the TV and streaming ad market altogether, especially if the strikes go on for months and dry up programming pipelines for the first quarter of 2024.
Since the start of the pandemic, advertisers and agencies have secured more favorable cancelation terms in their upfront deals and have maintained that flexibility in this year's deals. And some even enhanced their level of flexibility in light of the continued economic uncertainty as well as the writers' strike. Agency executives declined to discuss specific terms because negotiations around cancelation options are ongoing.
"Our brands that are heavier in broadcast prime[time] put in clauses to account for a lengthened writers strike so that we would have greater flexibility," said a third agency executive.
"The good thing is that we're still in the middle of negotiating on a lot of terms. I think we're going to have to have a bit more specificity, like what is that threshold by which we're now no longer comfortable buying a certain primetime schedule or streaming," said a fourth agency executive. "We're going to have to really get a little more granular on what is that threshold of which we now need to renegotiate some of these terms. That could definitely happen now."
Advertisers could cancel their upfront commitments and still spend some of that money in streaming where inventory levels continue to increase and prices have correspondingly begun to dip. Or they could look elsewhere.
"I actually think it would shift outside of upfront partners," said the fourth agency executive. "Sure, maybe to an extent I put more into streaming. But I actually would look outside of that completely and find other channels where maybe we could actually grow our spend in, like social video, YouTube, maybe even Amazon, commerce."
To be clear, there is unlikely to be much of a share shift when it comes to upfront dollars committed for the fourth quarter. Traditional TV networks have largely rejiggered their programming lineups to lean on reality TV programming to replace scripted shows in their primetime slots. Plus, the NFL and college football seasons give the likes of Disney, Fox and Paramount further cover. Instead, the real shakeup would come if the strikes start affecting TV networks' Q1 2024 plans.
"From what I saw, most networks had pretty much mapped out what they thought Q4 would look like. So it was less of a concern. I think the bigger concern is if it gets drawn out and what first through third looks like," said the third agency executive.
"In Q4, people were worried a little bit about the quality [of programming] and about late-night [shows being especially impacted]. And I think in Q1, people are worried about the long-term implications, because keep in mind at that point, it impacts the schedules, but it also starts to impact our clients. We have a lot of entertainment clients," said the second agency executive.
More to the point, while agencies have placed their upfront commitments with TV network and streaming service owners, they have not finalized their upfront buys with their clients.
There are two phases to the upfront: 1) the registration, or hold, period when agencies agree to spend a certain amount of money with sellers that is now winding down, and 2) the order period when agencies' client sign off on spending amounts and place their orders with the networks and streaming that is now starting up. Last year, advertisers cut their upfront orders from the initial commitments by 10% to 20%, a larger-than-usual percentage.
This year, agency executives expected the hold-to-order drop-off to return to the usual mid-single-digit percentage range. And then the actors joined the writers on strike. At the moment, the agency executives don't expect to see as dramatic of a drop-off as last year when the economic uncertainty bubbled up between the hold and order phases, but they are heading into client-facing upfront presentations over the next several weeks with that in their back of their heads.
"What could have an impact on drop-off from hold to order could be if it doesn't look like the strikes are going to have any sort of resolution," said the first agency executive.
"It's hard for me to quantify what [impact] the strikes could have, but it could push it up to maybe 10%," said the fourth agency executive.
What we've heard
"If you're a creator on Snapchat, it's recommended that you post about 100 snaps a day to make really good revenue off of it. But some people can live off of the revenue from Snapchat now."

— Creator Daisy Marquez
TV watch time bounces back
After five months of month-over-month declines, people spent more time watching traditional TV and streaming services on TV screens in June than they did in May, according to the latest edition of Nielsen's The Gauge viewership report.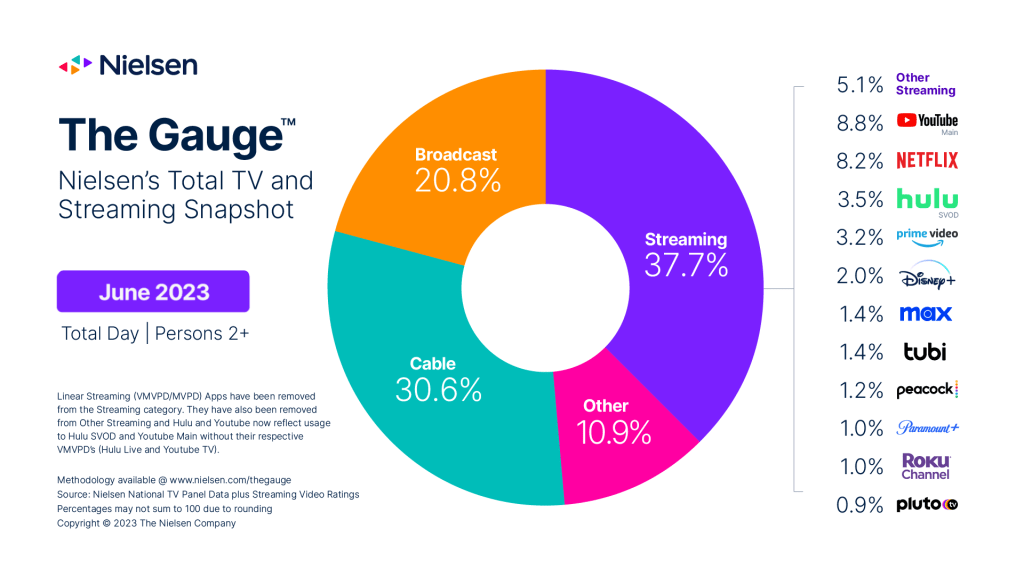 Nielsen attributed the overall watch time increase to 2- to 17-year-old viewers spending more time in front of the TV, though 90% of the watch time growth among this audience went to "non-traditional TV options (i.e., streaming, video gaming)." This audience's non-traditional TV affinity helped to bolster streaming's share of overall watch time, while broadcast and cable TV each ceded share.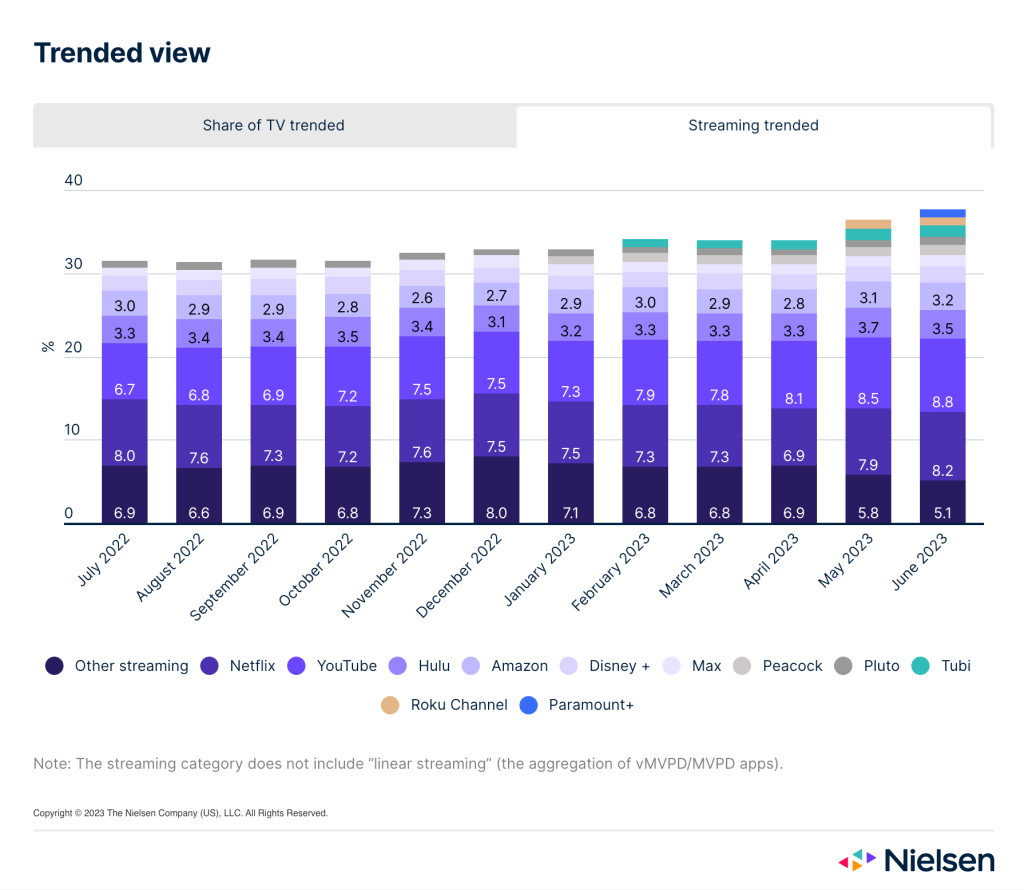 Within the streaming category, the story stayed largely the same as it's been. YouTube and Netflix held dominant shares, with each seeing watch time increase in June. And the rest of the services either gained or lost less than a percentage point in watch time share. The most notable change was the addition of Paramount's Paramount+ to Nielsen's list, with the streamer meeting The Gauge's 1% watch time share threshold to make it on to the report, a marker that Paramount's other streamer Pluto TV has yet to meet since doing so in September 2022.
Numbers to know
2%: Percentage share of streaming shows' revenue that SAG-AFTRA is asking to go to its performers.
$5.99: New monthly subscription price for NBCUniversal-owned Peacock's ad-supported tier.
2026: The year when Disney CEO Bob Iger now says he will retire after originally saying he would step down in 2024.
$2.26 billion: How much money advertisers are projected to have spent on U.S. streaming advertising in the second quarter of 2023, compared to $2.48 billion spent on national TV advertising.
35%: Percentage increase in the number of shows and movies in Apple TV+'s programming library in the past year.
3.5 million: Number of people in the U.S. who signed up for Netflix accounts in June.
5%: Percentage increase in the number of linear TV ad impressions in the first half of 2023, though national TV ad spend fell.
What we've covered
The case for and against micro-influencers:
Micro-influencers can be better suited for reaching niche communities.
Managing deals with multiple micro-influencers can complicate tracking metrics.
Read more about micro-influencers here.
Ad overexposure on CTV hurts streamers as much as brands:
People may blame streaming services for showing the same ad too many times.
Overexposure eroded purchase intent.
Read more about CTV ad exposure here.
What we're reading
Film-and-TV studios are seeking to scan background actors in order to use their AI replicas, though there are differing accounts on whether the studios' rights to those replicas would be limited to a single project or be held in perpetuity, according to The Verge.
Actors' slim streaming residuals:
Cast members from Netflix's "Orange Is the New Black" shared how much little money they have received in residual fees for the streaming series, highlighting why streaming residuals are a central issue in the ongoing writers' and screen actors' strikes, according to The New Yorker.
Disney's non-core TV network business:
Disney's newly reupped CEO Bob Iger has raised the possibility of the company selling off its traditional TV networks and selling an ownership stake in ESPN, according to CNBC.
Netflix's Korean content business:
As evinced by the success of "Squid Game," Korea has become an important programming hotbed for the streaming service, maybe even more so now that writers and actors in the U.S. have gone on strike, according to The New York Times.
https://staging.digiday.com/?p=511330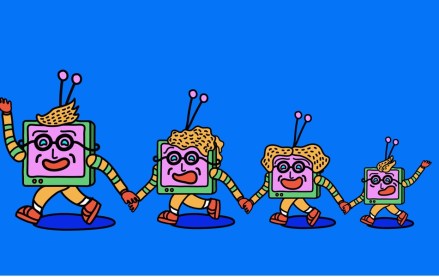 August 16, 2023 • 7 min read
•
•
This week's Future of TV Briefing looks at how the latest quarterly earnings season evinces more streaming subscriber growth struggles and a growing fondness for the bundle.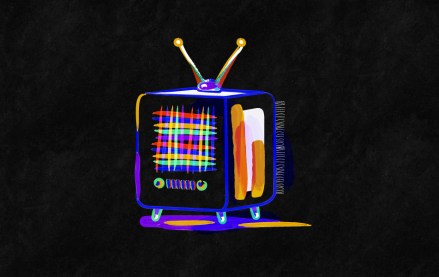 August 11, 2023 • 3 min read
•
•
It would appear that investors' enthusiasm for the CTV narrative that has served TTD, Magnite and PubMatic so well for the last 18 months is starting to plateau.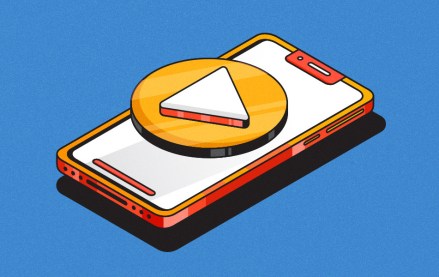 August 9, 2023 • 6 min read
•
•
This week's Future of TV Briefing looks at how platforms are pulling creators toward longer videos while brands push for shorter fare.