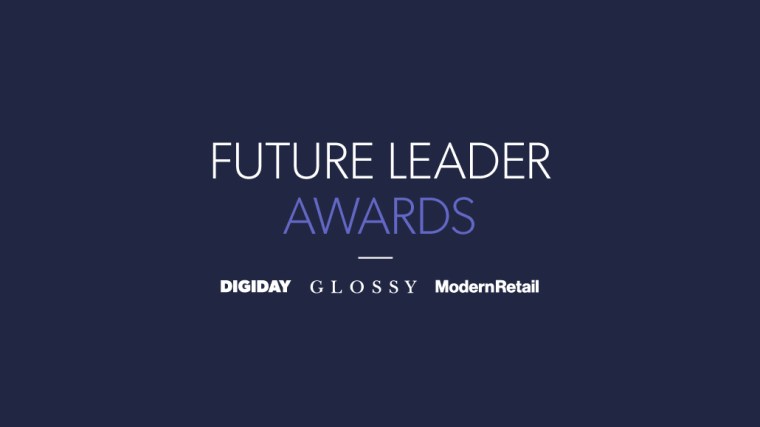 February 22, 2022 • 4 min read
The Future Leader Awards, presented by Digiday, Glossy and Modern Retail, are back to recognize the next generation of industry leaders. From founders of brands that were created out of personal need to leaders who are unafraid to speak out — or even build entire companies around — formerly taboo topics, this year's nominees signal an innovative, courageous future for marketing, media, retail, beauty, wellness and fashion.
Take Enrico Frezza, for example. The founder and CEO of Peace Out Skincare created the now number one best-selling acne brand at Sephora with no background in science or dermatology, only the will to overcome his skin struggles. After three years of intensive research and development, Frezza created the first-ever hydrocolloid acne dot, now a staple in any skincare toolbox. This, combined with leading the company through an ever-growing retail footprint and an expansion into the anti-aging space, has earned Frezza a spot on the Glossy Future Leader shortlist in the Beauty category.
During the pandemic and a time of racial reckoning and the oft-cited Great Resignation, Angelica Cadiente Kelly, senior manager of corporate communications at BetterUp, has been a strong advocate for equity for underrepresented groups and mental health in the workplace. At BetterUp, she positions the brand as a thought leader redefining the future of work, including updating the conversations around mental health and inclusion. Her work is informed by leveraging in-house psychologists and behavioral scientists. In turn, she encourages organizations to implement science-backed, measurable programs that support their employees' career and personal growth, as well as their overall wellbeing. Her work has landed her a place on the Digiday Future Leader shortlist in the Brand category.
As communication in the digital world became more important than ever over the last couple of years, Travis Montaque drove growth for his messaging technology company, Holler, by expanding it to brands and marketers looking to connect with customers authentically. Even with that growth, however, Montaque has stood firm in his commitment to data privacy, leveraging contextual rather than personal information to deliver the best experience. He also took his leadership a step further by co-founding Group Black, an organization with the mission of bringing investment and opportunity to Black-owned media companies. His leadership on both fronts earns him a nomination for Digiday Future Leader in the Technology Provider category.
While our judges determine the winners of this year's awards, take a look at the complete list of very deserving nominees below.
Nominees
01
Digiday Future Leader – Agency
Brittany Johnson – Associate Creative Director, Art, Pace
Hannah Farmer Lucas – Director, Strategy and Programmatic Media, Good Apple
Khari Motayne – Director of Inclusive Strategy, Direct Agents
Maddie Kaseeska – Associate Director, Marketplaces, Tinuiti
Natasha Potashnik – SVP & Partner of Media Science, Known
Stephen Nations – Director of Strategy, Drive Social Media
02
Digiday Future Leader – Brand
Angelica Cadiente Kelly – Sr. Manager, Corporate Communications, BetterUp
Aylon Steinhart – CEO & Co-Founder, Eclipse Foods
Meghan Ayles – Assistant Brand Manager, Rare Beauty Brands- Plant Apothecary & Dr. Dana Beauty
Nikki Coleman – Head of People and Operations, We Are Rosie
Stephanie Ortiz – CEO, It's A Secret Med Spa
Stephanie Walker – Senior Innovation Marketing Manager, Tropicana Brands Group
03
Digiday Future Leader – Publisher
Danielle Rubino – VP of Brand Development & Marketing, Forbes
Jenk Oz – Founder, Thred Media
Kayla Libuda – Senior Marketing Strategy Manager, Insider
Mack Sovereign – Executive Vice President, Content & Strategy, Wave Sports + Entertainment
Niven McCall-Mazza – Editor-in-Chief, theSkimm
Rachel Goldstein – Head of Industry, Technology, New York Times Advertising
04
Digiday Future Leader – Technology Provider
Allison Ferenci – CEO, Camera IQ
Jessica Peterson – Brand Strategist – Customer Success, BlueOcean
Katie Tiunova Popa – Director of Client Success, Adapex, LLC
Katie Weintraub – Senior Product Marketing Manager, Zeta Global
Meridith Rojas – Global Head of Entertainment & Creator Marketing, Logitech For Creators, Logitech
Travis Montaque – Founder & CEO, Holler and Group Black
05
Glossy Future Leader – Beauty
Emma Lewisham – Founder and CEO, Emma Lewisham
Enrico Frezza – Founder & CEO, Peace Out Skincare
Hallie Gould – Editorial Director, Byrdie
Jennifer Paxton – Senior Brand Manager, Neutrogena Megabrand, Johnson & Johnson
Meghan Ayles – Assistant Brand Manager, Rare Beauty Brands- Plant Apothecary & Dr. Dana Beauty
06
Glossy Future Leader – Fashion
Aaron Sanandres – Founder, Definite Articles
Brittany Bentley – Co-founder, Creative Director, Parker Clay
Charu Subramanian – Director, Strategic Insights, Rothy's
Francesca Aiello – Founder & Creative Director, Frankies Bikinis
Olivia Landau – CEO and Co-Founder, The Clear Cut
07
Glossy Future Leader – Wellness
Beatrice Dixon – Founder and CEO, The Honey Pot Company
Priyanka Jain – Co-Founder and CEO, Evvy
08
Modern Retail Future Leader – Digitally-native Brand
Bradford "Chip" Malt – Co-founder and CEO, Made In Cookware
Brittany Chavez – CEO, Shop Latinx
Jordan Nathan – Founder & CEO, Caraway Home
Juhi Girish Pikale – Sr. Director, Acquisition Marketing, Fabletics
Massimiliano Tirocchi – Co-Founder and CMO, Trafilea
09
Modern Retail Future Leader – Established Retailer
Becca May – Retail Communications, Warby Parker
Jessica Almanza – Senior Manager of Retail Communications & Training, Warby Parker
Raja Dhir – Co-founder + Co-CEO of Seed Health, Seed Health
https://staging.digiday.com/?p=440214