Welcome to the first installment of a new weekly feature we're calling the Digiday Vitriol-o-Meter. The idea is simple: a look back at the week's top media and marketing stories through the lens of how much outrage (warranted or not) they generated.
Here's how to read it: The Y-axis charts the level of outrage in the Internet zeitgeist generated by a given event — from "meh" (the shruggy emoticon at the bottom) all the way up to full blown rage. The X-axis measures how important we feel the topic is, how worthy of our outrage it really is, from "Vapid" to "Valid."
So, for example, AOL digital prophet Shingy sure seems to generate a lot of outrage for someone as fundamentally benign as he probably is. Therefore you'll find him in the upper left quadrant of our Vitriol-o-Meter. The hubris of Uber, on the other hand, is well deserving of the approbriation heaped upon it this week. File it in upper right.
Have a read and bask in the rage that was.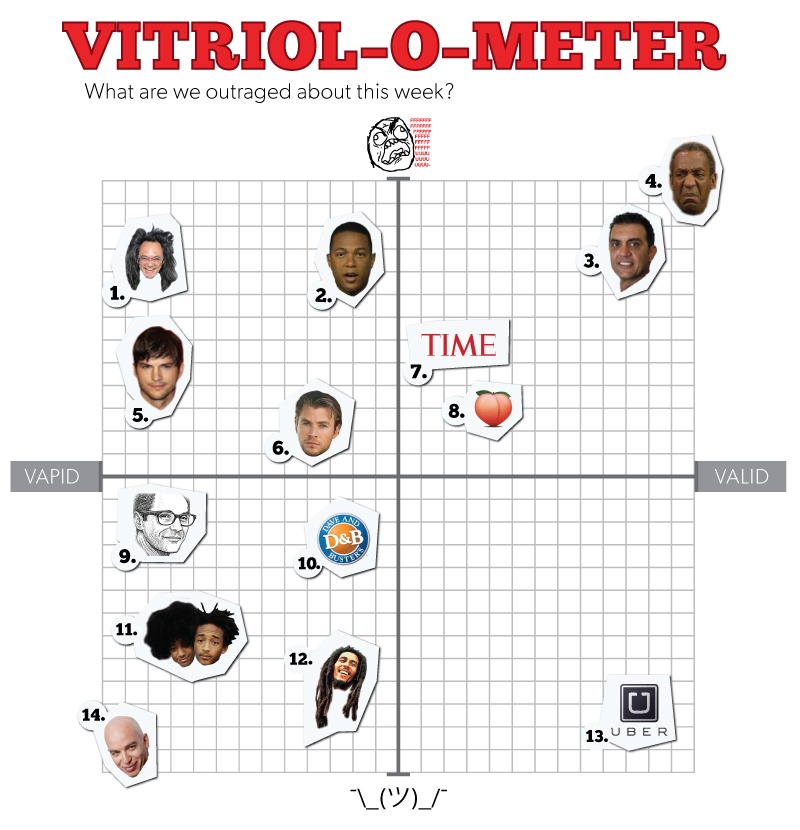 1. Shingy
AOL's perennially ridiculed "digital prophet" drew a fresh round of ire after The New Yorker turned a writer loose on him. We're still not sure exactly what Shingy does, but we do know agencies love him.
2. Don Lemon
CNN's Don Lemon was pressured into apologizing on-air after mansplaining to Joan Tarshis that she could have bitten Bill Cosby's penis during his alleged sexual assault of her in 1969. "If I offended you –– and I don't think I did –– then I'm sorry for that," Lemon said to Tarshis on Wednesday. She replied that she wasn't offended. Twitter sure was, though, and that's what matters.
3. Uber's hubris problem
Uber's "You will use us because of and in spite of our ferocious, unabashed capitalism" shtick might finally be running thin with users. For the first time this week, Uber encountered a controversy that hurt its brand (at least temporarily).
4. Bill Cosby
This fall was supposed to be the 77 year-old comic's victory lap: He had a Netflix special slated to run, a possible deal with NBC for a new sitcom and he was the subject of a glowing biography. But as decades-old rape allegations have resurfaced with renewed vigor, the special and the show have been ripped away from him. America's dad, in the popular imagination, is done.
5. Ashton Kutcher
Esteemed press critic, Nikon shill and Uber investor Ashton Kutcher went on a bizarre Twitter rant in defense of Uber, saying the company would be justified in digging into journalists' personal lives. Journalists, it should be noted, were really not amused.
6. People's 'Sexiest Man'
Chris Pratt and Ryan Gosling fans were disappointed, to put it mildly, but People's choice this year of "Thor" star Chris Hemsworth went over better than last year's pick of the significantly less-hunky, and, according to many, undeserving, Adam Levine. Gawker, being Gawker, was also unimpressed.
7. Time's word banning
The Internet was not impressed by a Time magazine poll which asked what words and phrases should be banned in 2015. On the list, right between "disrupt" and "I can't even": Feminist. Time has since apologized.
8. Personalized probiotics
Never underestimate Silicon Valley bro culture. Two dudes are using "personalized probiotics" to allow women to "biohack" the smell of their vaginas into the aroma of peaches. The ladies were not impressed.
9. 'The Web is Dead'
Wall Street Journal columnist Christopher Mims pronounced the Web dead on Monday, slain at the hand of the almighty app. Which means, if you're reading this, you're dead, too, aimlessly wandering in the netherworld between earth and afterlife. We hope you can one day rest peacefully.
10. That Dave & Buster's tweet
To advertise its Taco Tuesday menu, the restaurant chain made a painfully lame joke that, with clockwork precision, succeeding in offending all of Twitter. "I hate tacos, said no Juan ever," the tweet read. The company deleted the tweet and promptly apologized. That's all a brand can do once the Internet gets jalapeño business.
11. 'Because, living'
The bonkers interview with Will Smith's kids was mildly amusing and all. But let's save our delight (or outrage) for something truly important. Like North West's getting her own private island.
12. Bob Marley-branded weed
Stoners rejoice: The Bob Marley estate has licensed the reggae legend's name and likeness to create a special blend of herb dubbed Marley Natural, proof that the Marley brand — ninth on Forbes' most recent list of the top-earning dead celebrities — is alive and irie.
13. Uber's privacy issue
While most of the public outrage centered on Uber executives comments about digging up dirt on journalists, comparatively little was made out of a much more disturbing issue at play: Uber has a lot of sensitive data about user location and habits, and it has a history of misusing that information.
14. Michael Wolff
"Noted lunch-goer" Michael Wolff has been playing up his role in the latest Uber scandal. Apparently he was the person who invited Ben Smith, editor-in-chief of BuzzFeed, to the party where Uber's senior vice president for business outlined his Nixonian plot to dig up dirt on reporters. The dinner was meant to have been off the record, so Wolff was mortified when Smith actually committed journalism. "Wolff is quite unpleased with the minor role he played in embarrassing the $18 billion car-sharing company," Gawker wrote.
https://staging.digiday.com/?p=96899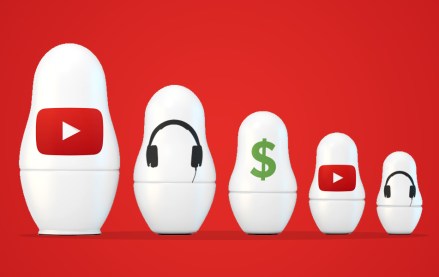 August 17, 2023 • 3 min read
Adalytics Research asks, 'Are YouTube advertisers inadvertently harvesting data from millions of children?'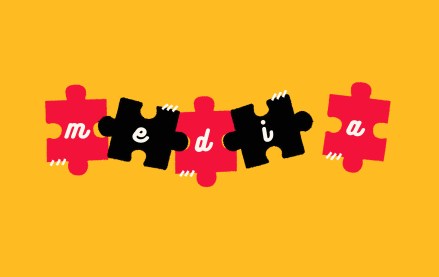 August 17, 2023 • 10 min read
Publishers' Q2 earnings reveal digital advertising is still in a tight spot, but digital subscriptions are picking up steam.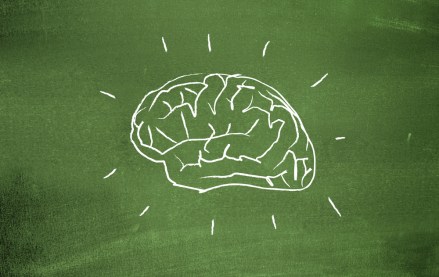 August 17, 2023 • 5 min read
Experts reflect how the failures of social media and online advertising can help the industry improve the next era of innovation.