Cannes Briefing: The scramble for the future of TV has begun
June 18, 2019 • 7 min read
Tuesday is when Cannes starts to get its groove. This is when the bigger sessions and bigger parties start to happen. The welcome rosé is in the rearview mirror. Ideally you took our advice and paced yourself.
It's easy to pooh-pooh Cannes. The gathering is the embodiment of late capitalism. But in talks with execs, it's clear that at worst Cannes is a necessary evil. The connectivity needed now in media and advertising simply requires more players than ever. That's not Panerai Replica Watches going away anytime soon. The festival itself long ago ceased being about the ads — or "the work," as ad people insist — and has moved to being about dealmaking and networking, more often than not outside of Cannes altogether in villas dotting the hills. — Brian Morrissey
Here are some highlights:
Cannes is notorious for its excess. But sobriety is very in right now — the New York Times has said it. Jess Davies found non-drinkers and pried their tips for how to do Cannes without the booze. Pro tip: Mornings in the Riviera are fantastic times for running, biking and all manner of outdoor activities. Story here
Less than half (48%) of industry execs think Cannes is about celebrating creative work in advertising, from a Digiday Research poll of 218 executives.
Reminder: Register to attend a live taping of the Digiday Podcast tomorrow. I'll be interviewing Twitter's Sarah Personette at the Twitter Beach at 2pm. Register here
The scramble for the future of TV has begun
The past few years of Cannes Lions might have been dominated by the Panerai Replica social platforms — and make no mistake, from Facebook to Twitter, these companies are out in full force again this week — but those that have serious ambitions in streaming video and the future of TV advertising are also making a bigger play in Cannes this year.
Streaming video will dominate conversations during Cannes this year. For instance, NBCU will be talking about its streaming plans with "in every conversation we have with clients and agencies, because it's on the horizon and everyone wants to understand it," said a source familiar with the media giant's plans. NBCU's ad sales chief Linda Yaccarino confirmed that NBCU plans to give and update on its streaming plans during the "more discreet one-on-one" conversations the company has with clients; "One of the reasons we're not taking the main stage at Cannes to talk about the product is that we want to have more specifics to share [publicly]," Yaccarino said.
NBCU isn't alone: WarnerMedia and Viacom's sales forces are also showing up to Cannes with streaming TV on their minds. And for those interested in the future of short form video — if there is one — will have bookmarked Wednesday's main-stage appearance by Jeffrey Katzenberg and Meg Whitman to talk Quibi. (Quibi, which has been out to market seeking large upfront ad deals, is not sending a big team this year since its product is still under development, a source said.)
The future of TV advertising, including the growth of connected TV in media plans and the irrepressible march toward addressable TV, are also dominating conversations. Comcast, for instance, is partnering with other pay-TV operators including Sky (which it also owns), Cox and Charter on a new addressable TV initiative. The goal: To help other pay-TV distributors build addressable TV programs and products — all in the hopes of creating a framework for addressable TV that the entire industry can agree on.
The race for the future of TV is certainly on — but it's wide open and there is little certainty on which companies will pull ahead in the coming years. Could it be Xandr, which has the promise of all those wireless and data owned by AT&T? What about Comcast and its ability to reach connected TV users through Xfinity and Sky businesses?
And let's not forget the biggest elephant not in the room: Netflix, Luxury Cartier Replica which is increasingly swallowing up TV viewing time in a commercial-free environment. One media manager at a CPG brand said he's increasingly spending time focused on getting products integrated inside Netflix and other ad-free platforms — even if the business value of a placement inside of a streaming show isn't clear. "The challenge is always the same, trying to become or stay relevant for consumers in a world that's more and more fragmented," he said. — Sahil Patel
Vice's Dominique Delport on the "new Vice"
With Nancy Dubuc at the helm, Vice is presenting a more grown-up, streamlined face to the advertising and media world. Vice global CRO and president of international Dominique Delport kicked off the week's episodes of the Digiday Podcast by detailing how the company has gotten its house in order. A few highlights:
"You're as strong as your weakest link. It was beyond a cultural change just to fix what was wrong. It was building a stronger Vice."
"You need the scale, of course, but you need the engagement. Engagement comes with quality content. That's it. That's what we do."
"I'm fascinated by what's coming from China and the Bytedance story. There are more A.I. engineers in Bytedance than in Google. It's a wave of conquering the world with apps that are incredibly modern, video-first, mobile-first and more than 1 billion downloads this year."
Coming up: Hearst Magazines president Troy Young discusses managing change in a large organization and why Hearst is focused on building a business-to-business data offering for fashion and beauty brands.
Sticker shock
Luxury doesn't come cheap. Cannes is a $27 vodka tonic kind of place.
https://twitter.com/OriginalFresca/status/1140376040751210497
Cannes newcomer tip
Fight the FOMO. You will feel positive there is some better party, some better event going on at that very moment that you should be at. Even worse, you might feel that about people. Don't give in. Cannes is a sprawling mess; there's no perfect place to be. Best to make the most out of wherever you are.
The judgmental map of Cannes
We put this together last year to help understand, in a tongue-in-cheek way, Cartier Replica Watches all the different areas of Cannes.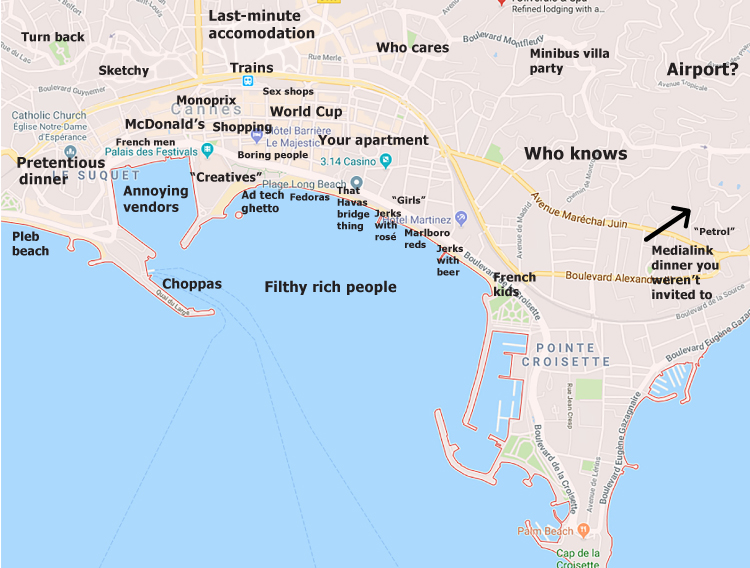 Jargon watch
"Storyliving" should not be adopted by any serious media or marketing exec, no matter what the Samsung CMO says.
Spotted
Three-time NBA champion Dwyane Wade traded Miami for Cannes as he relaxed among the usual clutter of the Carlton terrace Monday afternoon, sipping champagne and eating fries. At one point, waiters brought over a bottle of rosé, though it's unclear if Wade ordered that or it was gifted to him by one of the many men who came over to talk to him. (Also spotted near Wade, Gannett CRO Kevin Gentzel, though we can't comment on Gentzel's jump shot.) Wade is in town on behalf of Anheuser-Busch, whose U.S. CMO Marcel Marcondes will interview Wade at 4:15 p.m. today in the Palais. What's on the agenda? Making "brands more human," naturally.
What to do
Bleacher Report CEO Howard Mittman will be giving a speech about soccer fandom, which has been a big part of Bleacher Report's growth story (the company is on track to eclipse $200 million in revenue this year). Drinks will also be served, because Cannes. WarnerMedia House at 10 a.m.
German broadcaster RTL Group's ad business, RTL AdConnect, is hosting a series of panels on the future of branded content and TV advertising. One session, on "innovative use of data" in advertising, will be moderated by Digiday's Sahil Patel. 10 a.m.
The Economist welcomes the CMOs of Marriott, Pinterest and EY to talk about marketing on social platforms, with a purpose. Expect a lot of concern about the negative role certain platforms have played in society, but don't hold your breath for any marketer to go as far as to say they'd pull dollars from the big tech and social giants. The Beach Club at 10:30am.
Fullscreen is hosting a panel about the generation between Gen Z and millennials. The discussion, moderated by Digiday's Kerry Flynn, will feature executives from Fullscreen, American Eagle, Visa, Adult Swim and Marriott. WarnerMedia House at 11:30 a.m.
Reddit's COO Jen Wong will discuss how brands can participate safely and effectively in user-generated forums with executives from Oracle and GroupM. Reddit House at 1:30 p.m.
FCB will present a panel on the evolution on news consumption. Executives from FCB, The Economist and Twitter will debate the impact of subscription and paywalls among other trends of publishers diversifying revenue. BoatFCB – Jetée Albert Edouard at 4 p.m.
Twitter CMO will host a happy hour with "professional Tweeter," model and author Chrissy Teigen that celebrates female leaders and innovators. Twitter Beach at 5 p.m.
Nightcap
9pm: Nielsen, Beet.TV and NCS are cohosting a party at the Nielsen Yacht (Berth #44) with beats from DJ Mick.
9pm: The consultancy Jonge Honden is throwing a party aptly named "Young Dogs." Plage Long Beach.
9:30pm: Spotify has Nas and Swizz Beats tonight, the second of three different concerts the streaming service is hosting this week. Spotify Beach.
10pm: OpenX is hosting a "beach bash" inside the Carlton Hotel. кредитная карта онлайн решение
https://staging.digiday.com/?p=338254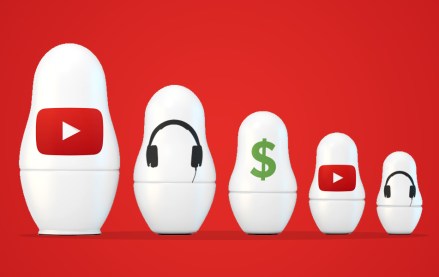 August 17, 2023 • 3 min read
Adalytics Research asks, 'Are YouTube advertisers inadvertently harvesting data from millions of children?'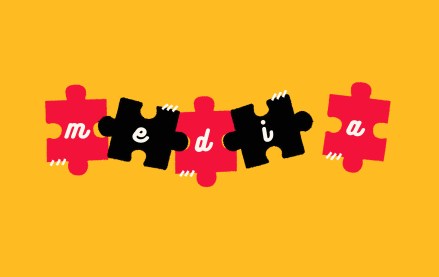 August 17, 2023 • 10 min read
Publishers' Q2 earnings reveal digital advertising is still in a tight spot, but digital subscriptions are picking up steam.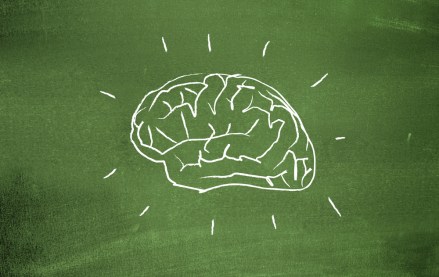 August 17, 2023 • 5 min read
Experts reflect how the failures of social media and online advertising can help the industry improve the next era of innovation.