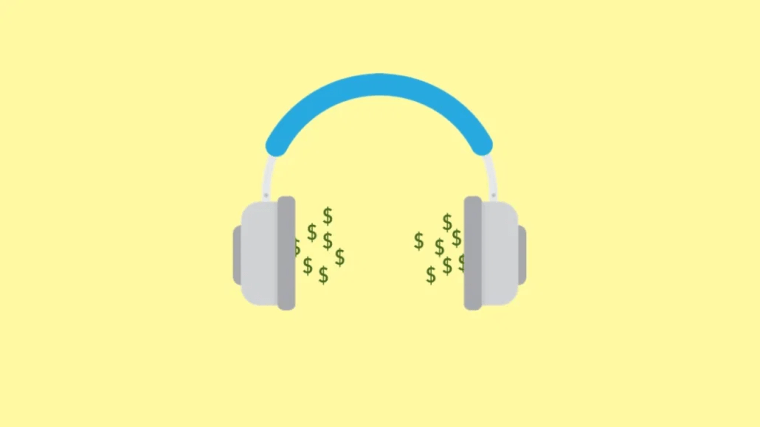 July 26, 2021 • 9 min read
•
•
Now that the media and marketing industries are muddling their way out of lockdown, Digiday asked a bunch of execs to select either three music tracks or nominate a podcast that got them through those tough times. From tunes that provided the backdrop for kitchen discos during lockdown to podcasts that made sense of the tumultuous political climate, a playlist for the pandemic has emerged.
01
Diane Perlman, CMO, Blis
Can't hold us – Macklemore & Ryan Lewis
Early on in lockdown, my husband and I decided to do a one-song dance party at the end of each day to shake off the intensity of the day. This one was a big favorite we kept coming back to, inspiring epic amounts of jumping around the living room – our poor neighbors!
Cola – CamelPhat and Elderbrook
I cycled on a turbo trainer in my living room nearly every day during the lockdown. This track has got a great driving beat and is also upbeat and fun. It put me in a great mood, motivating me to tackle those 'COVID Kms'.
Cheap thrills – Sia
During COVID we've cooked most nights and we always put on a favorite playlist while whipping up some delicious Ottolenghi creation or another. This is a firm favorite, every night of the week.
02
Samuel Regan-Asante, CEO, JOE Media
Uniform – Bloc Party
I grew up listening to Bloc Party and Kele is one of the greatest lyricists of his generation. Uniform is about finding your identity as a young person in the highly commercialized and manufactured society, but a few lines related well to the lockdown and the current predicament many of us faced in this new normal without the usual distractions.
"We're finding it hard to break the mould,
"We're finding it hard to be alone,
"We're finding it hard to have time by ourselves,
"We have nothing at all to say."
Eugene – Arlo Parks
Arlo Parks is just an amazing talent, musician and poet, and won best new artist at the BRIT Awards. Eugene is a beautiful song. The general gist of the song is battling complicated feelings toward someone you've known for a long time, something I'm sure most of us can relate to.
"I know I've been a little bit off and that's my mistake,
"I kind of fell half in love and you're to blame,
"I guess I just forgot that we've been mates since day,
"Yeah, I don't know what to say."
Exits – Foals
The Foals need no introduction, all I'll say is if you ever get the chance to see them live, just do it. Exits is about climate change, the negative impact we have on the planet and those who still deny it. Mid pandemic and lockdown and in the wake of the George Floyd murder the lyrics took on further meaning for me.
"I said I'm so sorry,"
"That the world has fallen down,"
"I wish I could do something more."
03
Niki Stoker, COO, A Million Ads
Broken Sleep – Fickle Friends
This track has a super energetic beat and while the lyrics talk about the broken sleep we suffered from previous hot summers, the messaging resonated with me during lockdown as we all had things on our mind keeping us up at night.
Don't Stop Me Now – Queen
This song is a pure energy giver! It reminds me of the good times, strolling to work or a meeting with this on full volume on my headphones, walking to the beat – something we're slowly starting to get back to now. Without fail the song puts me in a great mood and raises my energy level.
Heart 80s
I've been binging on Heart 80s recently, the '80s always make me feel happy. The tracks take me back to my youth and to simpler days, a complete halcyon era. Music has that ability to transport you with just a couple of lyrics and notes, so emotive.
04
Neil Barrie, founder and CEO of TwentyFirstCenturyBrand
Quarantine Speech – Lady Leshurr
A brilliant track that captures the anxiety and absurdity of the past 12 months with insight and wicked humor.
Merry Christmas Mr Lawrence – Ryuichi Sakamoto
It's the most beautiful piece of music in the world, fragile spine-tingling and so catchy. In early lockdown when I was regularly dealing with those 'holy shit how are we actually going to get through this?' late-night moments, I would turn to this to sort my head out and it didn't let me down. I also learned to play it badly on the piano which was a very useful distraction.
Podcast – Robin Hood Snacks
This is one of my favorite sources of business and brand inspiration. The two hosts approach it like stand-up comedians but the actual commercial and cultural analysis is sharp and incisive. It's a great part of the Robin Hood ecosystem and really helps reinforce how their brand is making investing radically more accessible.
05
Cortney Harding, founder and CEO, Friends With Holograms
St Cloud – Waxahatchee
My number one pandemic anthem. The evocative opening line about watching New York City mutate from a subway window went right to my heart as someone who was displaced last spring.
Podcast, Listen to Sassy
I've been waiting for a deep dive into the magazine that defined my teen years and this delivers in a truly funny fashion. To other runners and cyclists who noticed me howling with laughter on Bedford Ave — I'm not crazy, I'm just listening to this podcast.
Lay My Love – Brian Eno and John Cale
Hey, holding-company presidents — you could buy another agency or you could spend those millions paying Beyoncé to sample this song and make the greatest track of all time. I'll throw in a recommendation for Eno's recently rereleased diaries as well, as he reminds creatives it is OK to take breaks. One day he's in the studio with Bowie and the next he's spending the day learning photoshop by manipulating butts.
06
Will Jones, former head of publisher development, Magnite
Aston Martin Music – Rick Ross & Drake and Chrisette Michele:
This was a regular in our late-night kitchen discos when the kids were in bed.
The Whole Of The Moon – The Waterboys
This has always been a favorite of mine due to the positive energy and vibes the song gives off. My six-year-old son also started singing it during the lockdown.
We Don't Dance – M24 and Stickz
I'm a massive grime fan and this was released mid-lockdown. There were also some funny meme videos inspired by the tune featuring Roy Keane.
07
Nikki Cunningham, md of Curious London
Podcast: Made not born by leadership coach Alison Chadwick
Incredibly interesting and important conversations with legends in the creative industry giving their views on everything to do with leadership, from surrounding yourself with smart people to always being human first.
Podcast: Off Menu with Ed Gamble and James Acaster
A splendid take on the Desert Island Disc format, but adding some questionable dinner choices and hilarious table talk. Guaranteed belly laughs.
Song: Sister Sledge – Thinking of You (and any other funk/soul classics)
Because sometimes you just need to close the kitchen door, turn the volume up and have a really good boogie.
08
Adam Pace, digital consultant, Talon Outdoor
Where Love Lives – Alison Limerick
I got into running during the lockdown so I listened to playlists and mixes almost every day. The 'United We Stream' Hacienda live video steams were brilliant and really reminded me of lots of tracks that I hadn't listened to for ages. I have to really stop myself from putting my arms in the air when I'm out running in Claygate [Surrey, England.]
Don't Leave Me This Way – Thelma Houston
Probably my favorite track of all time. I listen to it all the time on the turbo trainer and when I'm out running. It's so uplifting and powerful – you have to sing along. However bad your day has been – stick this on and it will lift your spirits.
Are You Ready For Love – Elton John:
I've come to admire Elton John late in life. I thought that the movie about his life was brilliant. I find this phase of his work to be underrated, but he knocked out some real disco-style gems with amazing chords, harmonies and vocals. I turn this track up loud and dance with my daughter to it in the kitchen. What's better than that?"
09
Thomas Schmid, group creative director, BUCK
I fall to pieces – Patsy Cline
At the beginning of this summer, we worked on a project for Spotify, during which we illustrated 15 posters of different musical genres they celebrate around the world. We'd meet up every day to discuss the work, and initiated this fun ritual where every week we'd ask a team member to post a music track into a collaborative playlist based on the genre of music they were working on. This was a great way to find out about music that most of us were unexposed to, and the ritual helped connect us as work partners, and expand our points of view musically.
A Nameless Person tries to Describe Herself – Museum of No Art
Before the pandemic my strongest connection to music came from visiting record stores, particularly in New York City. To fill that void during the pandemic I've followed record labels and stores on Instagram such as Seance Centre in Toronto. One record I bought from their label that I continually return to is "Museum Of No Art – S/T". It's the perfect blend of rhythms that have enough drama to elicit deep emotion, but vibey enough to zone out and work to. I listen to this record a lot while walking my dogs at night.
Be thankful (Discomix remix) – One Blood
I've gravitated to music that feels carefree and sunny this year, for obvious reasons. Every time I'd turn on the news or some sort of current events podcast, I would quickly spiral into a very heavy feeling. So, I found myself digging really light, airy, sunny, and vibey music. Particularly this lovely series of lovers rock represses from the "Emotional Rescue" label out of the U.K. They have a special knack for unearthing rare vibey lovers rock tracks with a U.K. bent, and you can't help but release some pressure when you put on one of their epically long tunes.
10
James Kirkham, chief business officer, Defected Records
Remain Silent (Superpitcher Remix) – The Phenomenal Handclap Band
I must have played this 1,000 times. A long, sprawling, evolving, beautiful record. Part dance music, but with an incessant brooding beat. Great before you go out, great to work to, to run to. Just excellent.
Voices Inside My Head – The Police
This was featured on Danny Tenaglia's "Defected Selectors Playtlist" this year and until then I'd forgotten it existed. It has summery samba drums and wicked rhythm and that awesome sting voice which sounds like a sample but is just brilliantly repeating vocals. Haunting but upbeat.
Wildfires – Sault:
Maybe the band of the year, their last two albums are so eclectic and full of imagination. This song is quite gorgeous, her vocals make me want to cry, but the record inspires me too. What a sound.
11
Dominic Woolfe, CEO of Azerion U.K.
War – Bob Marley
This track helped me through lockdown as it is one of my all-time favorites and the song's message is particularly poignant and relevant right now – stop discriminating against each other and help each other out.
Uh Huh Oh Yeh – Paul Weller
The Paul Weller song 'Uh Huh Oh Yeh', which could have been one of many on the "Paul Weller" album, reminds me of fun, carefree times.
Connected – Stereo MC
This song takes me back to my childhood and reminds me of driving to school.
https://staging.digiday.com/?p=420908