Digiday mixes deep industry knowledge and experience with an emphasis on honesty over spin and quality over quantity, and that is no different with our events. Our events bring the Digiday content you read every day to life.

We look for people who are making change happen, leading the conversation when it comes to challenges the industry is facing and have new innovative ideas on how to tackle them.  
Either as solo presentations or moderated chats with our editors and reporters, we're bringing Digiday content to life on stage, and we'd love to have you speak. Here's what you need to know.
What event should I speak at?
Our events are broken up into three buckets: publishers, agencies and brands. Each event is for one of the specific industries or buckets. Here's how you know what bucket you fall into: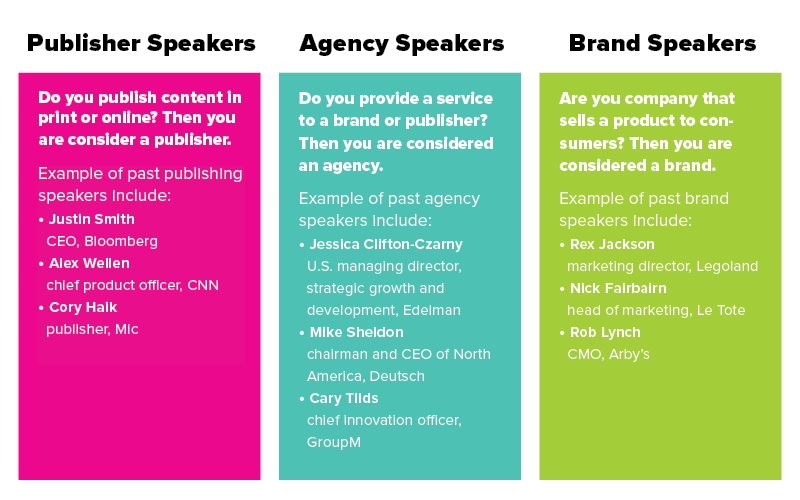 What else happens at Digiday events?
Digiday events are small, intimate and in luxurious locations. Digiday events are meant to cultivate authenticity and more importantly, real conversations and connections about what is really happening in media and marketing. On top of industry-leading speakers, Digiday summits also include:
Industry town halls:

Closed conversation for industry members to share real challenges they are facing and collaborate to find solutions.

Working groups:

Attendees are divided into working groups and assigned a particular challenge facing the industry to find solutions to. Each working group has a leader that will direct the group discussion and present the solutions to the summit.

Eight-minute meetings:

 

The eight-minute business meetings connect VIP agency delegates with innovative technology platforms and media companies. They are designed to help your team build valuable new relationships and ultimately, close business deals.

Endless networking opportunities:

Throughout the summits, there are networking breaks, cocktails receptions and group dinners.
Take a look at our upcoming events:
Publishing events:
Digiday Moguls – Sept. 18-20, 2017 | Miami Beach, Florida
Digiday Publishing Summit — Sept. 25-27, 2017 | Key Biscayne, Florida
Digiday Publishing Summit Europe — Oct. 23-25, 2017 | Berlin
Digiday Video Anywhere Summit — Nov. 1-3, 2017 | Laguna Niguel, California
Hot Topic UK: Data Strategy for Publishers — Nov. 14, 2017 | London
Digiday Programmatic Media Summit — Nov. 13-15, 2017 | New Orleans
Agency events:
Digiday Agency Summit — Oct. 23-25, 2017 | Charleston, South Carolina
Brand events:
Glossy Hot Topic: Influencer Marketing — Aug. 17, 2017 | New York
Hot Topic US: Data Strategy for Marketers — Sept. 7, 2017 | New York
Tearsheet Hot Topic: Bitcoin and Blockchain — Sept. 25, 2017 | New York
Glossy Forum — Oct. 3, 2017 | New York
Tearsheet Hot Topic: Mobile Payments — Nov. 30, 2017 | New York
Digiday Marketing Summit — Dec. 5-7, 2017 | San Juan, Puerto Rico
How to apply
If you are interested in speaking or being a working group leader, please apply below and we will be in touch.
https://staging.digiday.com/?p=245508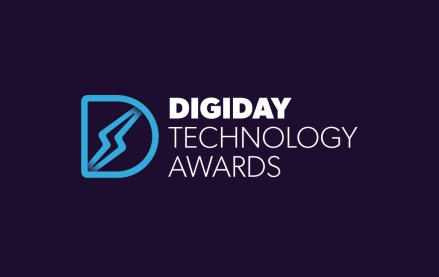 August 15, 2023 • 5 min read
Micro-personalization with AI, e-commerce technology, privacy compliance and partnerships proved the driving factors for success in this year's Digiday Technology Awards shortlist. As the judges' choices illustrate, the submissions that came in a cut above demonstrated brands' passion for balancing data privacy and highly effective personalization — adopting technologies and integrating with partners to achieve […]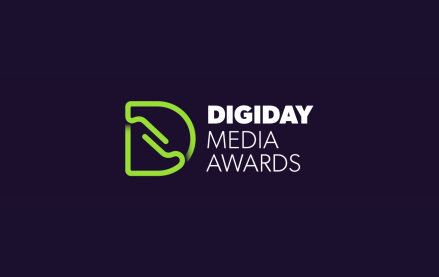 June 20, 2023 • 4 min read
The 2023 Digiday Media Awards featured a rising tide of collaborative brand partnerships and influencer collaborations. This year's winners also used emerging tech to revitalize the customer experience, prioritizing diversity and inclusivity. One program that hit on both themes secured two wins — one for Best Branded Content Program (B2C) and one for Best Custom Advertising […]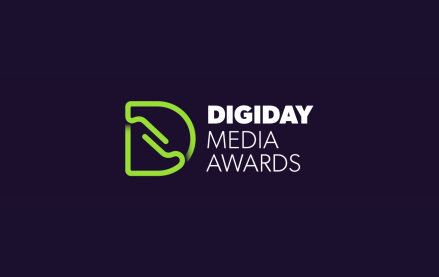 June 6, 2023 • 8 min read
Personalization, authenticity and inclusivity emerged as significant themes among this year's Digiday Media Awards shortlist. With the expansion of digital media's global reach and influence, brands are recognizing the importance of investing in emerging channels to engage diverse communities. The Brazilian Report was shortlisted for several categories, including Best Podcast for its weekly series, 'Explaining […]