Reading List: Tech's Mormon Bartender Problem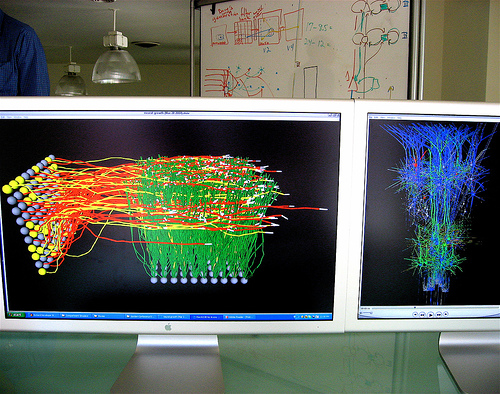 Each day we provide a roundup of five stories from around the Web that our editors read and found noteworthy. Follow us on Twitter for updates throughout the day @digiday.
Silicon Valley's 'Mormon Bartender' Problem:
The Web is undeniably entering a new phase that is undeniably social. The problem is that the people leading this movement are themselves, broadly speaking, not exactly the type of folks you'd turn to for social advice. Anyone who has spent time with engineers knows that they're generally not what you'd call typical life-of-the party people. And yet they're the ones designing the systems that will supposedly connect the world. This has spawned a great phrase to sum it up, the Mormon bartender. There's truth in the Mormon Bartender incongruity shown in everything from Google's ham-fisted attempts at social, Facebook's tone-deaf privacy problems and the struggles of many over-architected pieces of social software.
BetaBeat
— Brian Morrissey  
@bmorrissey
Hulu Bigger than Fox:
So much for the authentication trend putting a dent in Hulu's traffic. Gigaom analyzed Hulu's traffic numbers for the past few months and found that despite Fox's requirement that Hulu viewers either prove they are paying customers of the Dish Network or wait eight days for their favorite show, Hulu isn't seeing a market viewing drop-off as many predicted. At least not yet. So far this kills one of the more popular theories about Hulu that half or, at least, a significant portion of its viewership is driven by "SNL" clips and "Family Guy" episodes. It seems that at this point in its history, particularly given its increasing breadth, that Hulu is actually bigger than any one network partner. This would seem to encourage Disney/ABC, which is said to be mulling a similar delayed/authentication strategy. However, one thing Gigaom's story doesn't delve into is how has the authentication play affected Fox.com? Another thing to watch for, which the story hints at, is what happens when Fox starts airing more serialized, "must see" shows, like the upcoming J.J. Abrams drama "
Alcatraz
" and the Kiefer Sutherland sci-fi show "
Touch
." Unlike "Family Guy," fans of those series may have more trouble waiting.
Gigaom
— Mike Shields
@digitalshields
Channeling Charlie: Microsoft's Steve Ballmer recently announced that Microsoft is "winning, winning, winning" against Google in the battle to move businesses to the cloud with its latest Office 365 productivity suite. According to Ballmer, this latest version is being adopted eight times faster than its last version, and that equals a win against Google's efforts in the area. The problem with Ballmer's analysis is that although Microsoft has serious muscle in analytics and business productivity, Google is the dominant player in search, and search is at the core of consumer data and lots of critical business intelligence. No matter what Microsoft does, or how many suites it releases, it can't make a dent in Google until it begins to impact its search standing much more seriously. Wired — Carla Rover @carlarover
Has Microsoft Missed The Tablet Boat? As Microsoft adapts the the next iteration of its Windows operating system to accommodate tablets and other "post-PC" devices, some are suggesting it might already be too late to the party, following market entries from Amazon, Samsung, and RIM's BlackBerry among others. According to a new Forrester report on the outlook for Windows 8, tablets based on the new OS now face a bigger challenge having entered the market late and must provide consumers with an even better, more differentiated experience in order to succeed. Forrester — Jack Marshall @JackMarshall
More Privacy, Less Effective Ads: The FTC has extracted a settlement with Facebook around issues of user privacy. The settlement, which closely resembles the settlement the FTC inked with Google's Buzz, insures that the social media platform will inform users before changing privacy settings in the future so that users don't end up making public more information than they want to. It may be good news for consumers, but according Forbes, it's a decidedly mixed bag for marketers. The reason that Facebook is so attractive to brands is that it enables them to reach consumers in a very personal way. Facebook provides marketers with not just the behavioral data available from many websites and ad networks, but with personal data provided by users. If the platform can no longer provide brands with that very valuable data, the value of the site as an advertising medium may change. Forbes— Anne Sherber @annesherber
https://staging.digiday.com/?p=1774